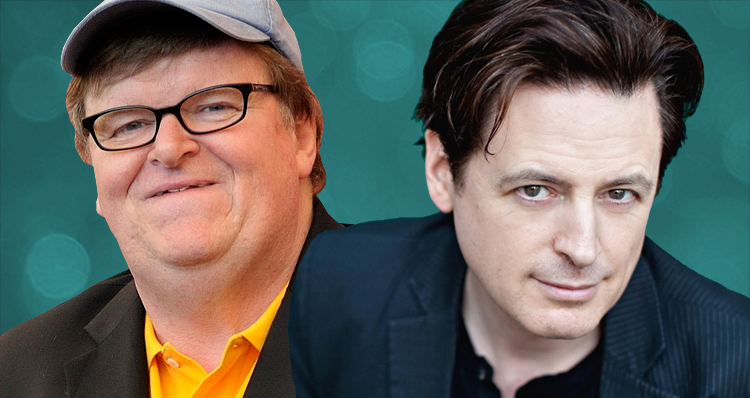 Have you ever noticed there are no conservative comedians – you ever wonder why? Michael Moore and John Fugelsang explain the function of humor and politics.
The Left Forum has been bringing together leftists of all kinds since 1981. A "culmination of the creative efforts of thousands of participants," the Left Forum is a "unique phenomenon in the U.S. and the world," convening "the largest annual conference of a broad spectrum of left and progressive intellectuals, activists, academics, organizations,  and the interested public. Conference participants come together to engage a wide range of critical perspectives on the world, to discuss differences, commonalities, and alternatives to current predicaments, and to share ideas for understanding and transforming the world."
Held in New York City each year, the 2013 conference, MOBILIZING FOR ECOLOGICAL\ECONOMIC TRANSFORMATION, was held at Pace University and included a panel discussion entitled "Harnessing Humor to Turbo Charge Engagement," which focused on the role of different types of humor in movement building as another way to engage activists and non-activists alike. As the 2013 Left Forum Newsletter noted: "Moore added his own brand of humor in politics to that of his co-workshop presenters John Fugelsang, John Hlinko1, and panel organizer Julianna Forlano2."
Discussing the fact that humor is an effective tool for provoking activism, Fugelsang declared that "conservatives can't do comedy for two reasons," explaining that since they represent the elite – conservative humor can only be aimed downward – to those less fortunate and that kind of humor doesn't work, feels dirty:
Number one, they're usually – and I generalize, forgive me – defending the status quo in some way. You are defending the upper two-percent. You are defending the aristocracy whether you know it or not. When you stand up for John Boehner, you are standing up for the upper two-percent and the aristocracy that's always called the shots here. And also, you can't attack down. If you're in a comedy club and someone make fun of homeless people or developmentally disabled people and call them retards, the audience might laugh for a minute or two but then it starts to feel dirty. It doesn't feel good to attack down. No one admires it.
Fugelsang then elaborated on his second point, that there must be some element of truth underlying humor, stating:
If there's no limit of truth in the point you're making, it won't be funny. If the joke's not true; if the point you're making with the joke isn't true it won't be funny and there's a reason why by the end of the play the only guy King Lear trusts it the fool.
Moore goes on to state that he thinks that "humor is a very subversive way to go about your politics," adding that "a lot of people on the left have not agreed with that for some time because they think we have to do this seriously, but the big part of our work is over."
The hard part – as you know for those of you old enough to remember the early days of the civil rights movement, the women's movement, the anti-Vietnam War – we could not have the majority of the people with us for years and years and years and years. And that took a lot of work to try to educate people and take them out of their ignorance – which will then stop the hate. It took a long time to do that. We don't have to do that work, the base work of convincing them that corporate America doesn't like them, or that – pick any subject. I just think that good news is that we don't have to spend years explaining to them that women should be paid the same as men. Everybody already gets it and the few that don't – like you said, why we don't have conservative comedians generally – is they have a hard time with this and they're dinosaurs – you're not – I mean where's the Republican rock? Rock and roll.

FOOTNOTES:
1. "John Hlinko is the founder of Left Action, a network of over 1,000,000 activists, built primarily through viral marketing. A frequent pundit, Hlinko is the author of the recently released book, Share, Retweet, Repeat: Get Your Message Read and Spread, ranked by Amazon.com as the # 1 "hot new release" in both the "web marketing" and "retail" categories. John holds a BA from Wesleyan University and an MA in public policy from Harvard's John F. Kennedy School of Government." SOURCE
2. "Julianna Forlano is the creator, host, and producer of the acclaimed news parody series, ABSURDITY TODAY! on Free Speech TV, The Young Turks Online Network, WBAI radio in NYC, and The Progressive Voices Radio Network. (Archives: www.AbsurdityToday.com). A contributing writer for CrooksandLiars.com, and TheContributor.com, Ms. Forlano teaches Media Ethics, Writing For New Media, and Comedy Scriptwriting at Brooklyn College and Hofstra University. She currently lives in Brooklyn, NY." SOURCE
(Visited 136 times, 1 visits today)