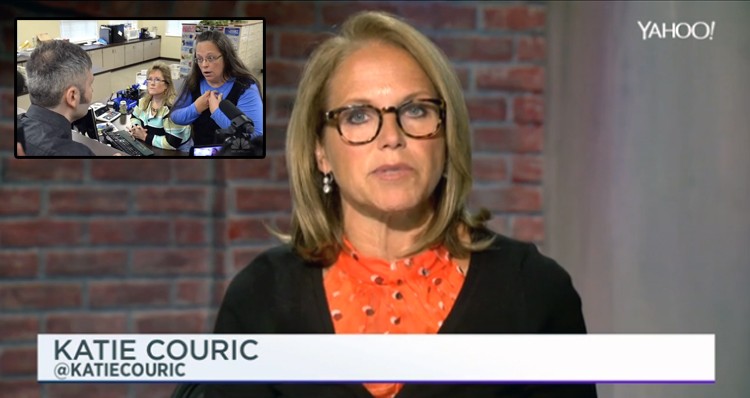 UPDATE, Thursday, Sept. 3, 2015: NBC News reports that Davis was found to be in contempt of court Thursdays morning.
District Court Judge David Bunning has said Davis is bound by an oath of office to perform her duties under the law, and ordered that she be jailed until she complied with his order to grant licenses.

U.S. District Judge David Bunning has summoned Rowan County Clerk Kim Davis and her staff after she once again invoked "God's authority" as "she defied the U.S. Supreme Court yet again on gay marriage Tuesday" adding that she "now must face a federal judge who could impose fines or send her to jail," according to a report by Yahoo News.
Tensions exploded in Davis' office Tuesday morning when she refused to issue marriage licenses to two gay couples. Davis responded to the confrontation through her attorneys, stating:
To issue a marriage license which conflicts with God's definition of marriage, with my name affixed to the certificate, would violate my conscience. It is not a light issue for me. It is a Heaven or Hell decision.
ABC News reports that: "April Miller and Karen Roberts tried first, trailed by dozens of television cameras. A deputy clerk said no licenses would be issued, and declined to make Davis available." According to ABC, "David Moore and David Ermold, a couple for 17 years, then came in, demanding to speak with Davis." [You can watch videos of that confrontation here.]
According to Yahoo News,
Davis refused to concede her religious freedom argument even after U.S. District Judge David Bunning ordered Davis and her six deputy clerks to appear at 11 a.m. on Thursday at the federal court in Ashland. Davis has said previously that four of her deputies share her beliefs, one was ambiguous and one did not have a problem with issuing licenses to same-sex couples.
ABC News adds that:
Despite the delays, the couples' lawyers asked the judge to punish her with fines, not jail.

"Since Defendant Davis continues to collect compensation from the Commonwealth for duties she fails to perform," they asked Bunning to "impose financial penalties sufficiently serious and increasingly onerous" to "compel her immediate compliance without delay."
Yahoo also reported that:
The clerk's husband, Joe Davis, came by to check on his wife. He said she has received death threats but remains committed to her faith and is "standing for God." As for himself, he said he believes in the Second Amendment: "I'm an old redneck hillbilly, that's all I've got to say. Don't come knocking on my door."
(Visited 77 times, 1 visits today)