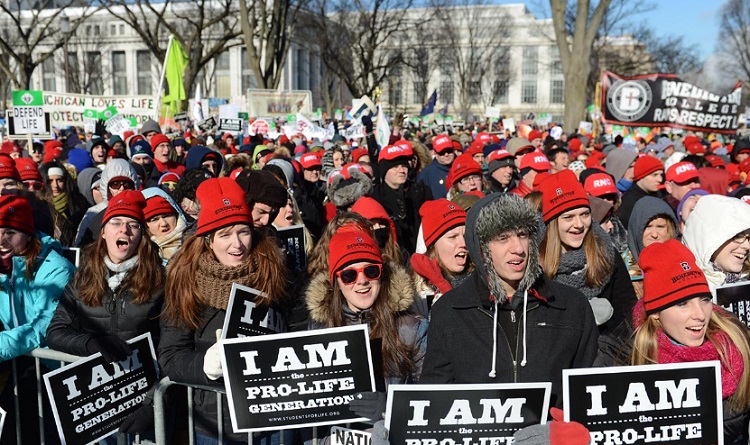 After the anti-choice organization, Center for Medical Progress (CMP), began releasing deceptively edited videos of doctors discussing the donation of aborted fetal tissue, Fox Nation posted a warning from an individual who goes by the name "Joseywhales" against the senior director of Planned Parenthood named in the CMP video:
"I'll pay ten large to whomever kills Dr. Deborah Nucatola. Anyone. Go for it."
According to a legal complaint filed by the National Abortion Federation (NAF) in a California district court, Joseywhales also threatened Cate Dyer, the CEO of StemExpress, a biomedicine company that procures fetal tissue for medical research:
"The CEO of StemExpress should be hung by the neck using piano wire and propped up on the lawn in front of the building with a note attached."
Joseywhales then listed Dyer's home address and offered "10 grand to whomever beats me" to her residence, and warned that Dyer "must die to save the innocents."
Abortion rights activists say these calls for murder represent a "very alarming spike in death threats and violent acts" against abortion providers, women's health clinics, and any medical research company that evangelical extremists believe are using fetal tissue from abortions for medical research.
Since the release of the heavily edited videos, two reports of arson against PP have been reported. Additionally, the crazed religious zealots are showing up in large numbers outside of doctor's homes. Conservatives across the country are commenting on anti-choice sites and other online forums, and they're calling for bombings and murders.
The threats have risen to such a level that Vicki Saporta, the president of the National Abortion Federation, asked the U.S. Department of Justice and the Federal Bureau of Investigation to get involved. Saporta stated, "In my 20 years at NAF, I have never seen such a volume, intensity and escalation of hate speech, threats and criminal activity, and we would like to prevent a serious violent act from occurring. We have enlisted law enforcement's help."
A law that passed in 1993 explicitly allows for the donation of fetal tissue after elective abortions. Planned Parenthood reported that it receives no more than $60 per specimen – and that fee is strictly used to preserve and transport the tissue. No evidence of wrongdoing has turned up in any of the investigations, and the family planning organization maintains no laws have been broken.
History proves that the deranged anti-choice lunatics are very much pro-death, and they will follow through on their threats. In 2009, abortion doctor George Tiller was shot in the head while attending church services, and in 1998 Dr. Barnett Slepian was killed in his home after returning from synagogue.
(Visited 95 times, 1 visits today)