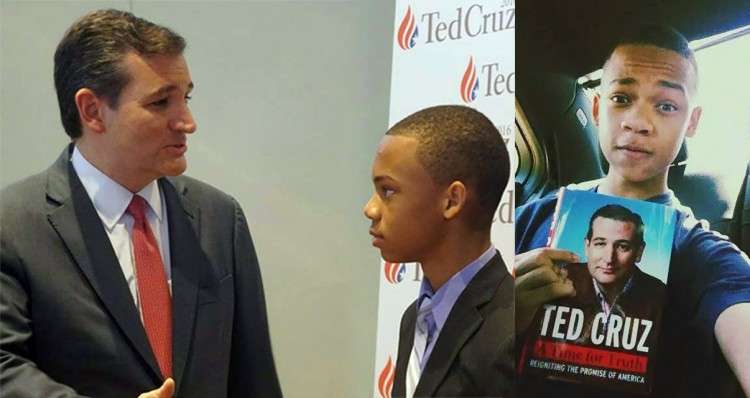 CJ Pearson, the 13-year-old conservative "firebrand" has been outed as a fraud by none other than Glenn Beck's conservative news site, The Blaze.
Last Wednesday, Pearson falsely claimed that President Barack Obama had blocked him on Twitter. The proof – an image he tweeted purportedly from Obama. However, as Oliver Darcy of The Blaze reports, "That claim, however, was almost immediately refuted by a White House spokesman. Pearson called the spokesman's denial "outrageous" and responded by uploading a video blasting the president for allegedly lying about the incident."
Noting that Pearson's only evidence was the screen grab, Darcy went to work proving that Pearson's claim was false. For one thing, Twitter does not allow members to follow an account that blocked them yet Darcy was able to confirm that Pearson was still following President Obama shortly after posting his claim. Darcy continued, reporting that others had caught on to this discrepancy in Pearson's story, later tweeting that Pearson had just un-followed the president in an apparent attempt to cover his tracks.
Darcy was also able to find evidence that the photo tweeted by Pearson as proof was an altered image – presumably in Photoshop or some other photo editing software. And, along those lines, another twitter user, Jonathan Langdale, was able to find the original photograph that had been altered by Pearson and tweeting: "Both the images are precisely the same size, w/different pixelization" and concluding in a follow-up tweet: "I'm concluding @thecjpearson's screen is a fraud as editing & size appears to match a previous fake."
And this is not the first time the Pearson has been caught being liberal with the truth. As The Washington Post reports, back in March Pearson was caught lying when he falsely claimed that his Facebook account had been suspended for his political activity when, in fact, it had been suspended for a terms of service violation – namely that he was 12-years-old and the site requires members be at least 13-years of age. There is also the time conservative website Cowger Nation reported that Pearson had been dumped by his management agency for falsifying documents and exhibiting a "pattern of dishonesty and deception." That story was also confirmed by Peach Pundit who published the termination letter from DBC Management.  And there have also been reports that Pearson took on a convicted felon and con man as his business partner to facilitate a fundraising campaign to the tune of $2.6k.
This takes us to Tea Party favorite and Republican presidential hopeful Ted Cruz.
As The Washington Post reported, last May Pearson had a five-minute interview with Cruz and earlier this month "the Cruz campaign announced his new role as the head of 'Teens for Ted,' and Pearson added a TedCruz.org email address to his Twitter profile. Simply by speaking his mind, Pearson had become a conservative star."
The Blaze reached out to Ted Cruz, but "A representative for the Ted Cruz campaign did not respond to multiple requests for comment." However, The Washington Post reports that "According to Cruz spokesman Rick Tyler, CJ Pearson remains part of the campaign."
Both The Washington Post and The Blaze reached out to Pearson, but he refused to respond to their questions, choosing instead to resort to name-calling on his Facebook account, where he wrote:
I'm not responding to fraudulent attacks on my character by the left nor RINOs. My friend sent me the screenshot, since I accessed my account using his phone. I saw it with my own eyes. Time to move on.
(Visited 281 times, 1 visits today)