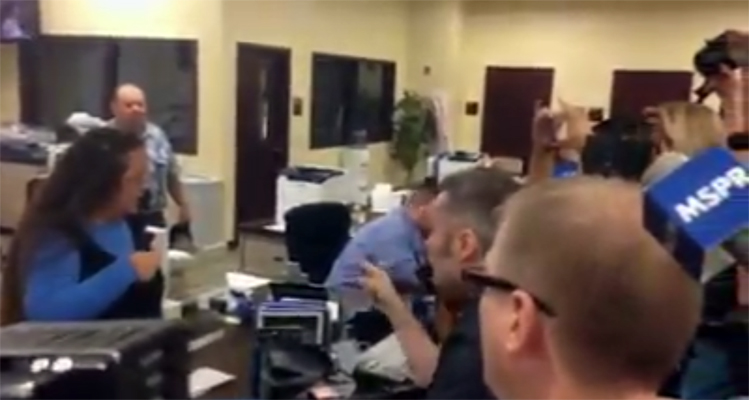 UPDATE, Thursday, Sept. 3, 2015: NBC News reports that Davis was found to be in contempt of court Thursdays morning.
District Court Judge David Bunning has said Davis is bound by an oath of office to perform her duties under the law, and ordered that she be jailed until she complied with his order to grant licenses.

Kim Davis, the clerk in Rowan County, Kentucky, who refused to issue marriage licenses to any couples – straight or gay – lost her application before the Supreme Court on Monday to stay an order by a lower court to being issuing licenses again.
MSN reported on Monday that "Davis [would] have to choose whether to issue marriage licenses, defying her Christian conviction, or continue to refuse them, defying a federal judge who could pummel her with fines or order that she be hauled off to jail." Mat Staver, the founder of the law firm representing Davis, stated on Monday that: "She's going to have to think and pray about her decision overnight. She certainly understands the consequences either way," adding "She'll report to work tomorrow, and face whatever she has to face."
Well, tomorrow is here and as many predicted, a defiant Davis told couples in front of news cameras that she is still denying the issuance of marriage licenses. An infuriated couple shouted at Davis, "we pay your salary," and then questioned "under whose authority" she was denying to issue licenses as the Supreme Court had already refused to issue a stay – an angry Davis shouted back: "under God's authority."
You can watch the altercation below from NBC News:
Additionally, Davis may already be facing criminal charges, as a couple seeking a marriage license that had been turned away went to the Rowan Country Attorney, Cecil Watkins, seeing Davis be charged with official misconduct, a misdemeanor punishable by up to a year in jail and defined by state law as a public official who "refrains from performing a duty imposed upon him by law or clearly inherent in the nature of his office."
MSN reports that "Watkins cited a conflict of interest and forwarded the complaint to Kentucky Attorney General Jack Conway, whose office will decide whether to appoint a special prosecutor, generally a county attorney from a surrounding jurisdiction, who would decide whether to file charges."
Hillary Thornton of WYMT-TV posted a video showing a different angle of the surreal scene on Facebook:
(Visited 44 times, 1 visits today)