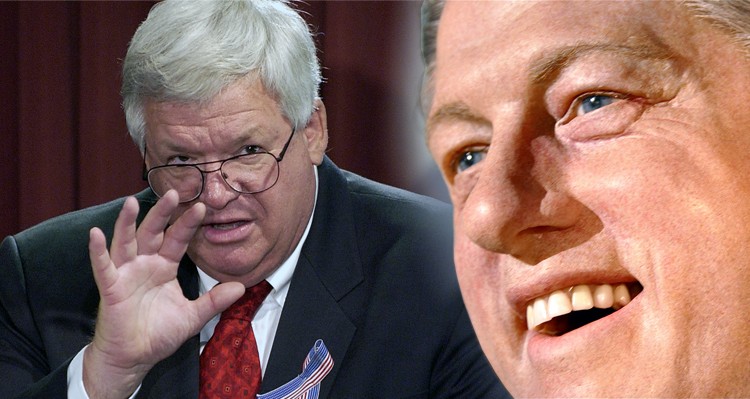 On December 19, 1998, the House of Representatives approved two articles of impeachment against President Bill Clinton for actions related to his extra-marital affair with Monica Lewinsky, a 21-year-old unpaid White House intern. The trial of President Clinton commenced on January 7, 1999, and five weeks later, on February 12, the Senate voted to acquit Clinton on both articles of impeachment.
As ThinkProgress reported back in May, nearly 17 years later, things have finally come full circle for the Republican hypocrites who led that effort.
Shortly after the November 1998 elections Gingrich resigned, having predicted Republicans would pick up twenty seats in the House when in fact they ended up losing five. Rep. Bob Livingston (R-LA) succeeded him as Speaker, but the day of the House vote on the articles of impeachment against Clinton, he  suddenly resigned after Hustler Magazine publisher Larry Flynt threatened to release details about what he described as four extramarital affairs by Livingston. In an interview with The Washington Post, Flynt stated that he "just wanted to expose hypocrisy. If these guys are going after the president, they shouldn't have any skeletons in their closet."
Rep. Dennis Hastert (R-IL) was known as a frequent critic of Bill Clinton, and immediately upon assuming the speakership, he "played a lead role" in the impeachment of the president. He reportedly "began lobbying on the House floor within moments" of Livingston's announcement, gaining the quick support of the Republican leadership and served as speaker from 1999 to 2007, to include the period while the Senate conducted their trial of Bill Clinton. Hastert has the distinction of being the longest serving Republican Speaker of the House in U.S. history.  As NBC's Chuck Todd reported last week, Hastert was selected by his Republican colleagues because "they were scandal-plagued at the time and he was considered the most ethical of the bunch. "
As it turns out, ThinkProgress reported back in May that,
Hastert was indicted on charges that he illegally structured $1.7 million in payments to an individual in an attempt to cover up prior misconduct. According to reports, the payments were allegedly intended to "conceal sexual abuse against a former male student he knew during his days as a teacher in Yorkville, Ill." The LA Times also reported that "investigators also spoke with a second man who raised similar allegations that corroborated what the former student said."
In the latest development, CNN reports that: "Attorneys for former House Speaker Dennis Hastert told U.S. District Judge Thomas Durkin Thursday they have reached a plea agreement on the charges that he lied to federal investigators about plans to pay someone he had wronged $3.5 million in hush money," adding that "Hastert is scheduled to enter his plea at an October 28 hearing, according to the U.S. Attorney's Office for Northern Illinois."
Details of the plea agreement will not be revealed until that hearing although federal prosecutors say they submitted a draft of the plea agreement to Judge Durkin already.
Ironically, although Hastert was quite vocal regarding Clinton's alleged indiscretions with women, according to the CNN report, "two sources with knowledge of the federal investigation told CNN in June that Hastert was paying a former student to stay quiet about allegations of sexual abuse from when he was a wrestling coach and teacher in Yorkville, Illinois," adding that, "The indictment details payments and a payment plan to an unidentified "Individual A," by Hastert. But that person has never been officially identified."
Hastert initially pleaded not guilty to the charges, but this plea agreement would spare him a drawn-out and potentially embarrassing public trial.
(Visited 102 times, 1 visits today)