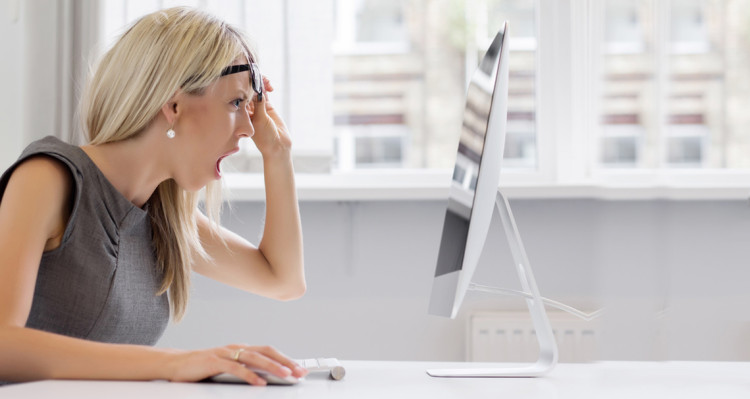 Conservatives and religious extremists are displaying mind-numbing hatred and bigotry on social media in response to the Paris tragedy last week.
Why are Americans so quick to judge an entire religion by the actions of an extremely small minority of extremists?
Having grown up in what is now a red state, I have been appalled by the anti-Muslim sentiment being expressed in my Facebook news feed since the tragic attacks in Paris last Friday.
As our friend and part-time contributor, Mindy Fischer, Writer put it:
I am shocked…honestly shocked at some of the posts that I am seeing on my FB feed today (and I have seen many of these) saying things like France and the U.S. should round up every Muslim and put them into concentration camps until they are proved innocent….
or posts that say they will not pray for or have any compassion for France until they wake up and recognize that the "Muslim parasites" need to be "annihilated."

And I've lost count how many I've read blaming this entire attack on Obama or somehow linking this attack to the size of Obama's testicles. The outright hatred for other human beings who happen to be different is exactly what causes terrorists to kill….and that same mindset here is beyond disturbing.

When we see radicals hijacking Christianity before terrorist attacks we don't round up and condemn all Christians. Common sense tells us that the KKK, white supremacists, Timothy McVeigh, abortion clinic bombers, the Sikh Temple massacre, burning of black churches, and countless others done in the name of Christianity do NOT represent the religion.

The tragedy in Paris makes my heart break for humanity. But many of the posts I'm reading today are not making me feel any better for us.
Our friends over at the Facebook page, Americans Against the Republican Party, raised an important point this weekend as well:
The Pew Research Center reported in 2014 that 70.6 percent of the U.S. is Christian – a slight decrease from 78.4 percent in 2007. With a total population of 308,745,538 according to the latest census, that means there were about 230,015,426 Christians in the U.S. at the time of the last census.
The Southern Poverty Law Center "estimates that there are between 5,000 and 8,000 Klan members, split among dozens of different – and often warring – organizations that use the [Ku Klux] Klan name."
The Pew Research Center reported in 2011 that there are approximately 2.2 billion Christians worldwide and 1.6 billion Muslims.
Estimates of the number of members of the Islamic State of Iraq and Syria, ISIS, vary greatly depending on the source. A senior Kurdish leader estimated in 2014 that ISIS had an army of 200,000. Reuters reported in June 2015 that "jihadist ideologues say IS forces are 90 percent Iraqi and 70 percent Syrian in its two main strongholds, where they have about 40,000 fighters and 60,000 supporters" for a total of about 200,000. A CIA spokesman told CNN in September 2014 that ISIS "can muster between 20,000 and 31,500 fighters across Iraq and Syria."
CNN continued their report, noting that: "Analysts and U.S. officials initially estimated there were as many as 10,000 fighters, including those who were freed from prisons by ISIS, and Sunni loyalists who have joined the fight as the group advanced across Iraq."
"This new total reflects an increase in members because of stronger recruitment since June following battlefield successes and the declaration of a caliphate, greater battlefield activity and additional intelligence," the CIA spokesman added.
Additionally, many in the Muslim community are speaking out against the Paris attacks, reminding people that most Muslims do not support ISIS:
Muslims are condemning Islamophobia by tweeting support for Paris with "I am a Muslim" https://t.co/ZIZ0N3YuBe pic.twitter.com/S0bXvKZx0F

— BuzzFeed India (@BuzzFeedIndia) November 14, 2015
Sharrief AlMidani, a Facebook user from Syria, posted the following message about a joint statement from 44 Free Syrian Army and nationalist Islamist armed opposition groups condemning the Paris attacks and "reiterating their commitment to fighting Assad and ISIS:"
And one of our great friends, the founder of the Facebook page Being Liberal brought this to our attention: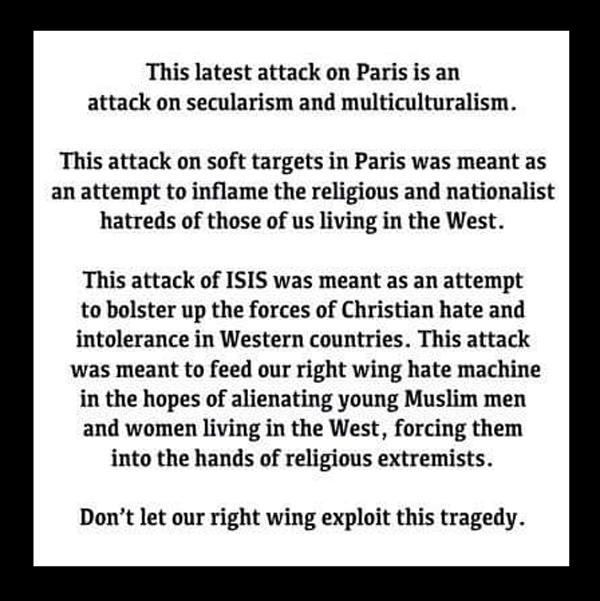 (Visited 81 times, 1 visits today)