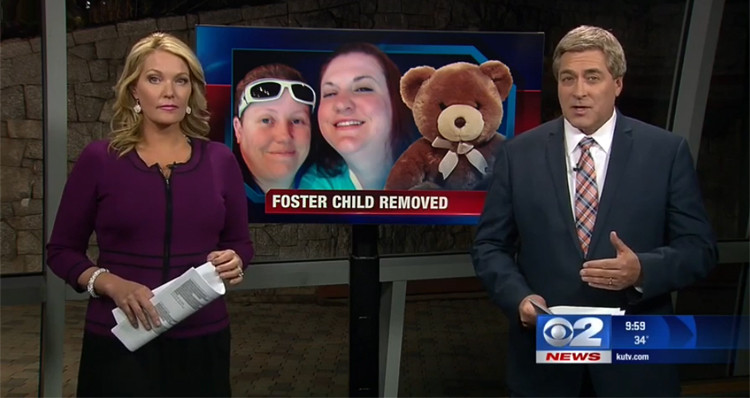 Hillary Clinton weighs in after controversial Utah judge orders child removed from a lesbian couple and placed with a heterosexual couple for the child's well-being.
Being a good parent has nothing to do with sexual orientation—thousands of families prove that. https://t.co/xQLh25RAYR

— Hillary Clinton (@HillaryClinton) November 12, 2015
Democratic presidential hopeful Hillary Clinton weighs in with a Wednesday tweet after controversial Utah Judge Scott Johansen ordered the removal of a baby from the foster care of a gay couple, ruling that unspecified research indicates that children do better in the care of heterosexual parents.
KUTV reports that: the women, April Hoagland and Beckie Peirce of Carbon Country, "are legally married and were approved as foster parents in Utah earlier this year after passing home inspections, background checks and interviews" from the Utah Division of Child and Family Services.
The couple told KUTV that the judge told them there was a lot of research that indicated children who are raised in same-sex parent homes do not do as well as children who are raised by heterosexual parents.
"We are shattered," said Hoagland, adding "It hurts me really badly because I haven't done anything wrong."
"We love her and she loves us, and we haven't done anything wrong," Peirce said. "And the law, as I understand it, reads that any legally married couple can foster and adopt."
The couple told KUTV that they plan to adopt the child, adding that the foster child's state-appointed attorney supports the adoption as does the biological mother, who says she wants her child to stay with the couple. Mandie Torgerson, the attorney for the child's biological mother, points out that Judge Johansen failed to cite the research he referenced in court claiming only that "a myriad" of studies support his ruling that children do better in the care of heterosexual parents.
The Los Angeles Times reports that "child welfare officials say they are trying to determine whether they can challenge that order," adding that: "the ruling triggered a heated response from the Human Rights Campaign. The gay rights group called the order shocking, outrageous and unjust."
Ashley Sumner, spokeswoman for the Utah Division of Child and Family Services, said Judge Johansen's Tuesday order raised concerns, that the agency's attorneys plan to review his decision to determine what options are available for a possible challenge.
Jen Hayden of the Daily Kos reports that Judge Johansen has a long history of very controversial orders and actions:
But that wasn't the first time the judge had inflicted serious punishment on a child for a minor offense. In 1997 he was reprimanded by the Utah Judicial Conduct Commission for "demeaning the judicial office" by slapping a 16-year-old boy during a meeting at the Price courthouse.

And just last month, Johansen made national headlines when he ordered a Carbon County mother to cut off her 13-year-old daughter's ponytail in public court. The girl was being punished for cutting the hair of a 3-year-old.
(Visited 47 times, 1 visits today)