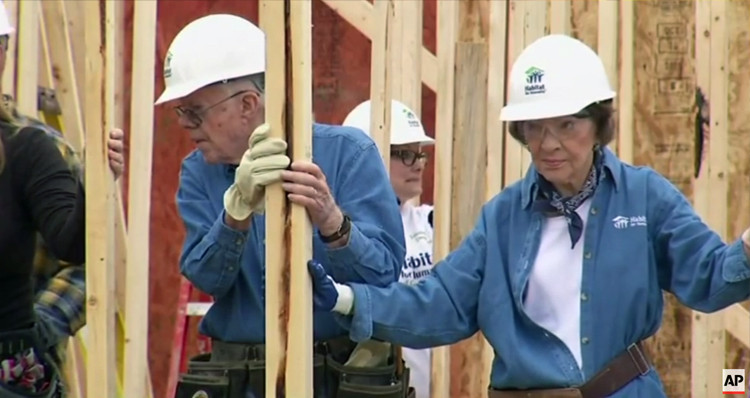 Jimmy Carter says he "feels fine," and continues keeping busy despite his current cancer treatments.
NBC News reports that "Jimmy Carter resumed his role as Habitat for Humanity's most prominent booster on Monday, donning a white hard hat and a worn leather belt stocked with his own tools to hammer and saw with other volunteers building a home in Memphis, Tennessee."
"We haven't cut back on my schedule yet," Carter told The Associated Press during an interview at the building site. "I know it's going to come, particularly if my cancer progresses, but we don't yet know what the result will be from the treatments."
Noting that Carter "was sure-footed on the construction site as he moved from one task to another," NBC News added that: "Carter arrived at the site ahead of schedule, removing a blue windbreaker and installing a hammer, measuring tape and thick pencil on his tool belt. His wife, Rosalynn Carter, 88, hammered brackets to secure the walls, pulling the nails from her own leather tool belt."
During the building site interview, Carter told reporters: "While I'm working, I don't want anybody to bother me.I don't want other volunteers to be coming and taking photographs because they're not working and I'm not working when they're taking my photograph."
Jonathan Reckford, Habitat for Humanity's CEO, says that Carter's "jump-right-in attitude" hasn't changed since his diagnosis and ongoing treatment.
"He, to me, looks great, sounds great," Reckford said, adding "and he's very focused. You can tell when he's building; he's working on getting the job done."
And this news seems consistent with earlier reports about Carter's health. Earlier this month Carter received the Humanitarian Empowerment Award from the The League of Women Voters. His grandson, Jason Carter, attended the ceremony and told WSBTV Channel 2's Lori Geary that: "He feels good physically, the care is going really well, he's tolerating it," adding that both his grandparents are in a good place emotionally because they've witnessed such an outpouring of support from around the world.
Carter and his wife, Rosalynn, are well known for their work as volunteers with Habitat for Humanity, a Georgia-based philanthropy that helps low-income working people around the world to build and buy their own homes and access clean water.
As NBC News reports, "the Carters have personally been involved with 3,943 projects in 14 countries for the group, which has helped five million people with home construction and repairs."
We wish Jimmy Carter, his wife Rosalynn, and their many friends and family members the very best in the upcoming months and years.
And in the meantime, you can show your appreciation for this remarkable man by visiting and joining the Facebook page, 'Honoring Jimmy Carter,' which has garnered over 100k members/likes and counting.
(Visited 49 times, 1 visits today)