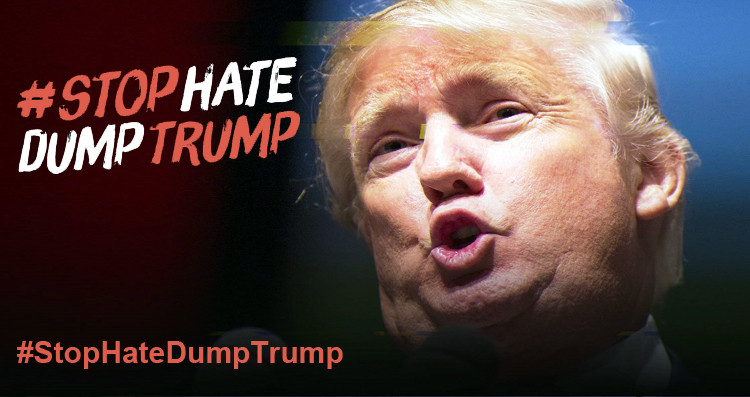 Dozens of celebrities and Activist have joined the "Stop Hate Dump Trump" campaign aimed at halting Donald Trump's campaign and the "politics of hate and exclusion he represents."
Harry Belafonte, Cornel West, Angela Davis, Danny Glover, Michael Moore, Jane Fonda, Lily Tomlin, Noam Chomsky, Gloria Steinem, Dylan McDermott, Ani di Franco, Rosie O'Donnell, Jim Hightower, Tom Hayden,  Rosanna Arquette, Van Jones,  and Roseann Barr are among the activists and film and television stars pledging to "speak out in every way possible" to prevent Republican presidential hopeful Donald Trump from becoming the next President of the United States of America as part of the new "Stop Hate Dump Trump" campaign.
A Wednesday press release by the group states that "A diverse coalition cutting across race, gender, religion, sexual orientation and party affiliation has organized to give voice to Americans calling out Donald Trump for his hate speech, misogyny, Islamaphobia, and racism. A new web site, www.stophatedumptrump.com, will provide a platform for those who do not and will not stand for the continued threats, rhetoric and fear mongering by the Republican Presidential front-runner."
"Trump is a frontrunner candidate who promises to 'build a wall' on our borders, humiliates and denigrates Muslims, women, immigrants, racial minorities as part of his 'stump speech,' allows protesters to be beaten at his rallies and in fact encourages hostility toward anyone who disagrees with him," said Eve Ensler, activist and playwright.
"We are offering Americans a chance to be heard and engage in action, as Trump's campaign gain[s] momentum even as he increases his hateful and divisive rhetoric," continued Ensler. "We also intend to put the media and political institutions on notice that they are accountable for normalizing Trump's extremism by treating it as entertainment, by giving it inordinate and unequal air time and by refusing to investigate, interrogate or condemn it appropriately," concluded Ensler.
"We hope that the diverse and passionate group of individuals that immediately agreed to sign on to this campaign will inspire a collective awakening amongst Americans to speak out, create and join initiatives that bring attention to the many who reject Trump's vision for the country," said Kimberlé Crenshaw, law professor at Columbia and UCLA Law Schools, who spearheaded "Say Her Name" a campaign to draw attention to Black women killed and sexually assaulted by the police.
"In a true democracy, there has to be a line between deliberative debate and mob rule," said Crenshaw. "Trump has crossed the line and much of the media has exacerbated the problem by treating his remarks as entertainment, effectively encouraging his competition to do the same. We have already seen the hateful and exclusionary rhetoric taking place at his rallies, where opponents have been beaten, threatened and ejected. This is not a made for TV movie. This is real. If we don't want this country to take another step down that road, then we all need to speak up."
"Our democracy cannot be left in the hands of those who would rather watch or participate in a train wreck than stop it," concluded Crenshaw.
The campaign's website includes a brief list of recent Trump quotes, serving as examples of Trump's "hate." The quotes include harsh statements about former Secretary of State and Democratic presidential front-runner Hillary Clinton. They also include defamatory statements about immigrants and African-Americans; insults directed at Republican rival Carly Fiorina, Republican Senator and war hero John McCain (R-AZ) and actress Rosie O'Donnell.
In a statement, the group says they "believe Trump is a grave threat to democracy, freedom, human rights, equality, and the welfare of our country and all our people."
"We have witnessed Trump inciting hatred against Muslims, immigrants, women, the disabled. We have seen him evidencing dangerous tendencies that threaten the bedrock of democracy: unleashing a lynch mob mentality against protestors, calling for the expulsion of Muslims from the country, bullying, and fear-mongering," the statement reads.
"History has shown us what happens when people refuse to stand against hate-filled leaders," the statement continues, concluding "We pledge ourselves to speak out in every way possible against the politics of hate and exclusion he represents."
At the time of publication, the campaign had gathered 2615 signatures, to include:
Hillary Abell, Paula Allen, J. Bob Alotta, Gar Alperovitz, Michaela Anang, Rachel Anspach, Laurie Arbeiter, Michael Archer, Rae Armantrout, Elisabeth Armstrong, Philip Arnoult, Anthony Arnove, Rosanna Arquette, Reza Aslan, Kenny Ausubel, Russell Banks, Steven Barclay, Roseanne Barr, Anna Barsan, Ellen Bass, Beth Becker, Harry Belafonte, Gina Belafonte, Medea Benjamin, Phyllis Bennis, John Berendt, Dana Beyer, David Bianchi, Sophie Cabot Black, Joan Blades, Gabriel Blau, Kathy Boyd, Adam Braver, Connie Britton, Pamela Brown, Jennifer Buffett, Peter Buffett, Leo Buser, Leslie Cagan, Lou Canelli, Peter Carey, Polly Carl, Heather Carson, Kathy Chalfant, Henry Chalfant, Tina Chang, Tina Chang, Linda Chapman, Noam Chomsky, Tena Clark, Peggy Clark, Rosa Clemente, Frances Coady, Daisy Cockburn, Barbara Cohen, Garrard Conley, Robert Coover, Seane Corn, Stosh Cotler, Peter Coyote, Molly Crabapple, Kimberle Crenshaw, Michael Cunningham, George Curran, Pamela Curran, Robin D. G. Kelley, Imam Daayiee, Erica Dasher, Laurie David, Angela Davis, Lydia Davis, Mike Davis, Michael Dawson, Fiona Dawson, Susie Day, Libero Della Piana, Jonathan Demme, Monica Dennis, Gina Dent, Matthew Dickman, Ani Difranco, Abigail Disney, Liza Donnelly, Janet Donner, Mark Doty, Farhad A. Ebrahimi, Barbara Ehrenreich, Judith Ehrlich, Jethro Eisenstein, Zillah Eisenstein, Natalie Ellertson, Lauren Embrey, Laurie Emrich, Eve Ensler, Jodie Evans, Julia Famulero, Carolyn Farrell, Mike Farrell, Marc Favreau, Mamdouh Fekkak, Andrea Fernandez, Carolyn Ferrell, Dan Finnerty, Dominique Fishback, Scot Fisher, Laura Flanders, Bill Fletcher, Nick Flynn, Jane Fonda, Lourdes Font, Carolyn Forche, Lynn Alicia Franco, Deni Frand, Kevin R. Free, Rob Freitas, Jaclyn Friedman, John Fullerton, Mindy Thompson Fullilove, Alicia Garza, Suzie Gilbert, Brian Glick, Danny Glover, George Goehl, Suzanne Goldberg, Francisco Goldman, Carla Goldstein, April Gornick, Vivian Gornick, Greg Grandin, Macy Gray, Mark Green, Cynthia Greenberg, Steve Gunderson, Surita Gupta, Rev. Joan Jiko Halifax, Diane Andrews Hall, LeeAnn Hall, Doug Hall, Lee Ann Hall, Nathalie Handal, Lawrence Hanley, Laura Hanna, Luke Harris, Cheryl Harris, Tia Powell Harris, John N. Hart Jr., Amelia Hassani, Paul Hawken, Tom Hayden, Nancy Hechinger, Chris Hedges, Lyn Hejinian, Christine Hejinian, Dr. Jason Hickel, Jim Hightower, Catherine McLaughlin Hills, Edward Hirsch, Mark Hoffman, Steve Hollis, Elizabeth Horowitz, Joanne Howard, Marie Howe, Fanny Howe, Andrew Hsiao, Marion Hunt, Carolyn Hunt, Laurel J. Ramseyer, Major Jackson, Lisalyn Jacobs, Saru Jayaraman, Ileana Jiménez, Joan Jonas, Sarah Jones, Leslie Salmon Jones, Hettie Jones, Van Jones, Cynthia Jurs, Mary Karr, Evelyn Fox Keller, Robin D.G. Kelley, Bill Kelly, Kerri Kelly, Kathy Kelly, Randall Kennedy, Duncan Kennedy, Deeyah Khan, Hamid Khan, Navina Khanna, Jean Kilbourne, Kathryn Kilgore, Kevin Killian, Michael Kimmel, Michael Klein, Rabbi Sharon Kleinbaum, Wayne Koestenbaum, Nancy Kricorian, Jonathan Kruk, Amitava Kumar, Mark Kurlansky, Steve Kuusisto, Mary Lachapelle, Anne Lamott, Kathleen Lane, Jensine Larsen, Louise Lawler, Lyn Lear, Judith leBlanc, James Lecesne, Heidi Lehmann, Jamilah Lemieuc, Elizabeth Lesser, Pamela Lippe, Catherine Mackinnon, Wendy MacNaughton, Fekkak Mamdouh, Nancy Lopez Mancias, Eric Mann, Courtney Martin, Donna Masini, Donna Masini, Donna Masini, Mark Matousek, Michael Mayer, Dylan McDermott, Dylan McDermott, Betsy McKinney, Terrence Meck, Friedricke Merck, Jennifer Miller, Pat Mitchell, Chandra Talpade Mohanty, Satya P. Mohanty, Jennifer Monson, Tony Montenieri, Rick Moody, Michael Moore, Honor Moore, Marian Moore, Robin Morgan, Mary Morris, Kathy Najimy, Mona Najimy, Samia Najimy Finnerty, Scot Nakagawa, Jessica Neuwirth, Thandie Newton, Jim Nicola, Cynthia Nixon, Zachary Norris, Lynn Nottage-Gerber, Sue Novick, Rosie O'Donnell, Terry O'Neil, Ana Oliveira, Gary Orfield, Adelaide Osborne, Matthew Palevsky, Amanda Palmer, Purva Panday Cullman, Gregory Pardlo, Oliver Parker, Bruce Parry, Mary Patten, Caroline Paul, Diane Paulus, Natalie Peart, Dale Peck, Tiffany Persons, Suzanne Pharr, Michelle Pineiro, Tonya Pinkins, Daniel Pintauro, Frances Fox Piven, Climbing PoeTree, Dr. Thomas Pogge, Robert Polito, Anne Pollack, Ai-jen Poo, Kevin Powell, Vijay Prashad, Adam Rackoff, victoria Redel, Gini Reticker, Eve Rosahn, Esq., Nancy Rose, Susan Rosenberg, Ron Russell, Leslie Russo, Cheryl Saban, Stephan Said, Joanne Sandler, David Sassoon, Stephanie Frank Sassoon, George Saunders, Camille Saviola, James Schamus, Rebecca Scheckman, Nicole Sealey, Sarah Secunda, Mab Segrest, Frank Selvaggi, Palak Shah, Dani Shapiro, Alex Sharp, Alex Sharp, Julia Sharpe-Levine, Charlotte Sheedy, Beverly Guy Sheftall, Duncan Sheik, Cindy Sherman, Denese Shervington, Pamela Shifman, Amy Sillman, Lekha Singh, Paul Alan Smith, Tracy K. Smith, Seton Smith, Joanne Smith, Rebecca Solnit, Felipe Sousa-Rodriguez, Hortense J Spiller, Jerilyn Stapleton, Jean Stein, Gloria Steinem, Pat Steir, Matthew Stinchcomb, Gail Straub, Elizabeth Streb, Sean Strub, Cecilie Surasky, Susan Celia Swan, Sandy Tait, Lili Taylor, Terry Tempest Williams, Olivia Thirlby, Rev. Adriene Thorne, Salamishah Tillet, Scheherazade Tillet, Lily Tomlin, Chase Twichell, Timothy Tyson, Loung Ung, Ariane van Buren, Genevieve Vaughan, Shannon Wagner, Alice Walker, Kerry Washington, Janet Weil, Daryl Wein, Randi Weingarten, Jane Weinstock, Cornel West, Laura Whitehorn, Barbara Williams, Angel Kyodo Williams, Jamia Wilson, Richard D. Wolff, Caroline Woolard, Kai Wright, Ellen Yenawine, Gardner Yenawine, Martin Yenawine, Patricia Yenawine, Phillip Yenawine, Emma Yorra, Melissa Young, Deanna Zandt, Amy Ziering, Elizabeth Ziff, Karen Zurheides
(Visited 136 times, 1 visits today)