Remember when everyone thought Jeb Bush was the smart brother?
Remember when everyone thought Jeb Bush would emerge as the 2016 GOP presidential candidate?
Yeah, I know, hahaha; me too.
We found out rather quickly that no one really cares about Jeb Bush. Not even Republican voters.
The Bush campaign has poured vast sums of money into ads, and it hasn't helped. Turns out Jeb Bush isn't the strong, sensible choice for Republicans. For those who can stomach the GOP debates, we've come to expect – and possibly even look forward to – him being nothing more than Donald Trump's punching bag.
It's become painfully clear that Jeb has no charisma; and his campaign has decided to utilize (what they now believe is) his best asset: George W. Bush.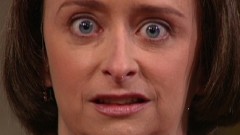 Yes, the very same Bush who left the White House as one of the most disliked Presidents in American history. The same Bush whose oil paintings includes a nude self-portrait while showering.
On Monday, George W. will join Jeb on the campaign trail in South Carolina.
A veteran political consultant, Stuart Stevens, who worked for George W. Bush on his 2000 and 2004 campaigns told The Guardian he thought George W. has appeal because he "has a fundamental decency that resonates with many Americans."
He said: "Unlike Donald Trump, most Americans don't blame him for 9/11 and believe he acted as a wartime president to protect the US in a different kind of war. After Bill Clinton, he treated the office of the presidency with the respect it is due and has shown that respect to his predecessor, not taking political stances against the current president. And for the vast majority of the time Bush was in office, the economy was good, with far more people working full-time jobs at higher wages than during the Obama years."
This last grasp for victory will surely backfire. No one cares about the Bush family anymore. Even the right-leaning website Breitbart chimed in last fall when they wrote about the embarrassing Bush brothers legacy:
"GOP presidential candidate Jeb Bush is defending his brother, former President George W. Bush, against GOP frontrunner Donald Trump's reminder that 9-11 occurred under George W. Bush's watch.

But the International Business Times (IBT) reports a number of the hijackers on 9-11 actually obtained Florida drivers licenses – or I.D. cards – while Jeb Bush was governor, which allowed them to blend into society."
Oops.
The Bush Dynasty is over. Dubya killed it. If it weren't so karmically delicious, it would be sad. But it isn't sad.
In the words of Mama (Barbara) Bush: "We've had enough Bushes."
Like Kimberley A. Johnson on Facebook HERE, follow her HERE. Twitter: @authorkimberley
Special thanks to Angie DiPietro. Learn more  here.
(Visited 77 times, 1 visits today)