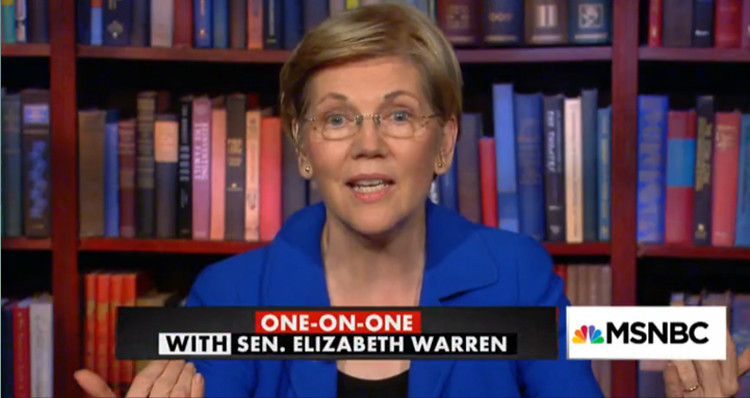 Sen. Elizabeth Warren hits back after a Republican Congressman calls her Darth Vader and says she needs to be neutered.
Senator Elizabeth Warren (D-Mass) scares Republicans and bankers – so much so that the senior member of the House of Financial Services Committee, Rep. Blaine Luetkemeyer (R-MO), referred to Warren as the "Darth Vader of the financial services world" in a meeting of the American Bankers Association. He also suggested bankers should find a way to "neuter" Warren.
The Center for Public Integrity identifies Luetkemeyer as part of a group of lawmakers "especially solicitous to the banking industry." According to the Center for Responsive Politics, he's raised an impressive amount of campaign funding from the insurance, real estate and financial sectors.
Warren has been a champion for the people by calling for stricter regulations for big banks and Wall Street.
On an appearance on MSNBC's "All in with Chris Hayes" Wednesday evening, Warren had this to say:
"Look, if Wall Street and their buddies in the Republican Party want to launch an assault on financial regulations, and they want to say 'let's roll back Dodd-Frank' all I can say is 'let's have that fight. I'm ready. You can make it with words or anything else you want, but I am not backing down.'"
Co-founder of the national women's group UltraViolet Nita Chaudhary issued the following statement:
"Rep. Luetkemeyer's remarks on Senator Elizabeth Warren at the American Bar Association meeting earlier today were offensive, sexist and out of line.  Comments like these, which sound eerily similar to something that Donald Trump would say, have no place in American politics and speak to the impact that Donald Trump is having on the discourse coming out of the Republican Party.  Luetkemeyer should immediately apologize to Senator Warren for his offensive language.  There is plenty of room for disagreement in Washington, but resorting to sexist name-calling should have no place in our political discourse."
Like Kimberley A. Johnson on Facebook HERE, follow her HERE. Twitter: @authorkimberley
(Visited 82 times, 1 visits today)