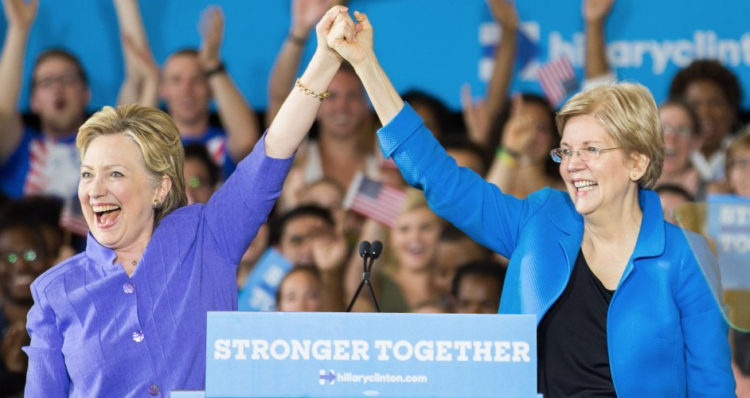 Warren takes to twitter to educate Trump – or to at least convince him it's time for him to don his 'big-boy pants.'
Progressive firebrand Elizabeth Warren has been blasting Republican nominee Donald Trump all year in fiery speeches, during interviews, and on Facebook and Twitter pages.
She has called him a "loser" and "failed businessman," a "cheat and a tyrant".
Blasting allegations he has not paid federal income taxes in nearly two decades, she has called Trump "a fraud, a cheapskate and a bully."
She has even taken time to mock his "tiny low-energy hands."
On Wednesday she squared off with Trump in yet another fiery Twitter tirade, calling him out for the litany of excuses he is barking out in what appears to be a face-saving strategy faced with the likelihood that he is not only going to lose – but lose by a landslide – to Democratic Nominee Hillary Clinton in the November election.
In one tweet she calls him a bully writing: "Give me a break, @realDonaldTrump. You're not losing because it's rigged. You're losing because we see through your creepy bullying."
Three tweets later she hit him again – this time telling him it's time to don his "big-boy pants" and face reality.
"It's not rigged, @realDonaldTrump. You're losing fair & square. Put on your big-boy pants because this is what accountability looks like," she writes.
Give me a break, @realDonaldTrump. You're not losing because it's rigged. You're losing because we see through your creepy bullying.

— Elizabeth Warren (@elizabethforma) October 19, 2016
It's not rigged, @realDonaldTrump. You're losing fair & square. Put on your big-boy pants because this is what accountability looks like.

— Elizabeth Warren (@elizabethforma) October 19, 2016
She went on to point out that "even children" know better than he does and then went on to advise the bigoted billionaire that "You can't run a campaign based on hating women, African Americans, Muslims & immigrants & expect to win."
Anyone with children knows that whining about imaginary cheating is the last refuge of the sore loser, @realDonaldTrump.

— Elizabeth Warren (@elizabethforma) October 19, 2016
You can't run a campaign based on hating women, African Americans, Muslims & immigrants & expect to win, @realDonaldTrump.

— Elizabeth Warren (@elizabethforma) October 19, 2016
She blasted him for his unsubstantiated and widely debunked claims of looming voter fraud, noting that according to Trump it "only seems to plague places where lots of people might vote for @TheDemocrats."
It's fascinating, @realDonaldTrump: "voter fraud" only seems to plague places where lots of people might vote for @TheDemocrats.

— Elizabeth Warren (@elizabethforma) October 19, 2016
She went on to connect Trump to the GOP regarding those false claims, first tweeting: "But @realDonaldTrump didn't come up with the "rigged" election himself. It's a longtime effort by the @GOP to delegitimize @TheDemocrats," and later with a tweet linking to a Tuesday Op-Ed piece by her published by the Washington Post, entitled: "Elizabeth Warren: Trump didn't invent the 'rigged election' myth. Republicans did."
But @realDonaldTrump didn't come up with the "rigged" election himself. It's a longtime effort by the @GOP to delegitimize @TheDemocrats.

— Elizabeth Warren (@elizabethforma) October 19, 2016
She also linked his attack on the judge overseeing the Trump University alleged fraud case and his threat to imprison Clinton to "House GOP witch hunts."
And @realDonaldTrump's antics – like attacking judges & calling for his opponent's imprisonment – echo the @HouseGOP's witch hunts.

— Elizabeth Warren (@elizabethforma) October 19, 2016
And she ended the day, post-debate, writing: "@HillaryClinton proved tonight: She has brains, guts, thick skin, steady hands, & most of all: basic decency. #ImWithHer & proud of it."
.@HillaryClinton proved tonight: She has brains, guts, thick skin, steady hands, & most of all: basic decency. #ImWithHer & proud of it. pic.twitter.com/Q0Au2Zy50h

— Elizabeth Warren (@elizabethforma) October 20, 2016
(Visited 62 times, 1 visits today)