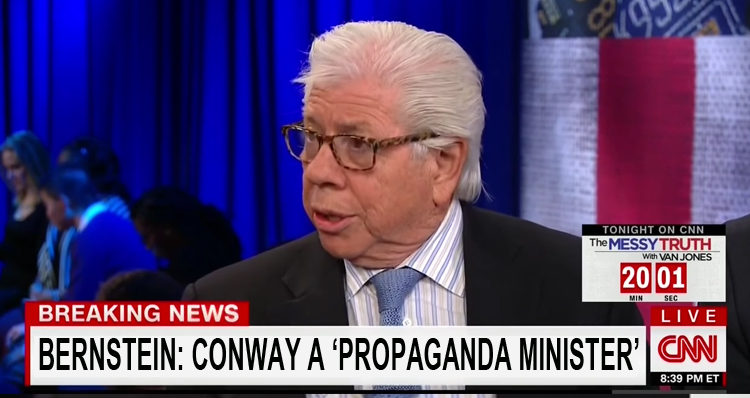 Watch Legendary investigative journalist Carl Bernstein rage against Kellyanne Conway.

Controversy is heating in the wake of a CNN article reporting that: "Intel chiefs presented Trump with claims of Russian efforts to compromise him."
January 11th Kellyanne Conway and CNN's Anderson Cooper clashed in a fiery interview over CNN's report. During the interview Conway kept repeating the false claim that the CNN report included a link to a BuzzFeed article disclosing the full 35-page memo that included allegations that Russian operatives claim to have compromising personal and financial information about Trump.
Carl Bernstein, who co-authored the CNN article, participated in a panel discussion with Anderson Cooper and others after the heated Conway interview and tore into Kellyanne Conway calling her "a propaganda minister."
"Let's talk about what reporting is," Bernstein began, adding: "It's the best attainable version of the truth."
He continued, stating: "The chief intelligence officials of the United States of America saw this material, thought that it deserved investigation, thought that it ought to be brought to the attention of the president of the United States and to the president-elect that's the best attainable version of the truth."
Anderson Cooper added: "And Carl, I should just point out because you were involved in this reporting, CNN is not reporting what's in the BuzzFeed — all those — all the things that they talk about. We have not been discussing this."
Bernstein responded: "Not in the least, and let's talk about what reporting is. It's the best obtainable version of the truth. That's what that story is; the best obtainable version of the truth is that the chief intelligence officials of the United States of America saw this material, thought that it deserved investigation, thought that it ought to be brought to the attention of the president of the United States and to the president-elect. That is the best obtainable version of the truth."
Bernstein, who is well-known for his work with anonymous sources, tore into Conway stating that "one of the great anonymous sources of our era is Kellyanne Conway."
"She does it every day," he continued, adding: "she has been an anonymous source for the last ten months– particularly during this campaign when it suits her, and it's time to talk about what we do as journalists, and what propaganda ministers do, and that is what she is, is a propaganda minister."
Bernstein concluded his remarks, saying that: "what we've seen here tonight is a deconstruction of the journalistic process. And we did our work and you can deconstruct it, and it comes down to, look, the chief officials of the United States intelligence community believed they had something urgent enough to bring to the attention of the president and the president-elect of the United States. That is a story."
(Visited 118 times, 1 visits today)