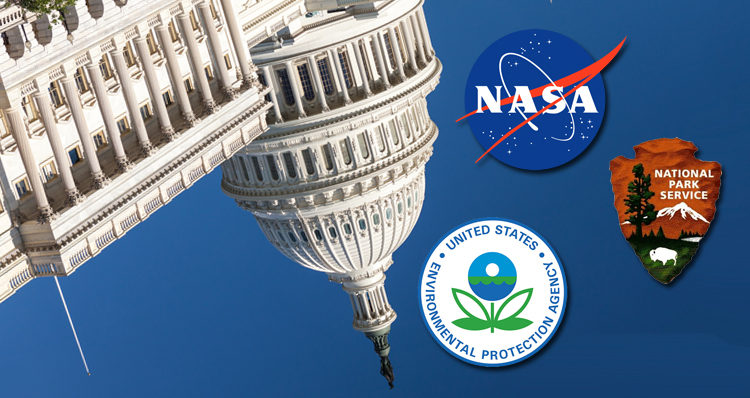 Government agencies like NASA, the EPA, and the National Park Service are going rogue after Trump attempts to muzzle climate change research and science.
Numerous credible websites are reporting that government agencies such as NASA, the EPA, and the National Park Service are defiantly setting up rogue Twitter accounts in defiance of recent orders by Trump.
The Independent reports that: "Employees from more than a dozen US government agencies have established a network of unofficial 'rogue' Twitter feeds in defiance of what they see as attempts by President Donald Trump to muzzle federal climate change research and other science."
Seizing on Mr Trump's favorite mode of discourse, scientists at the Environmental Protection Agency, NASA and other bureaus have privately launched Twitter accounts – borrowing names and logos of their agencies – to protest restrictions they view as censorship and provide unfettered platforms for information the new administration has curtailed.
Conservative website Forbes reported on Wednesday on "the rise of 'rogue' Twitter accounts popping up for agencies like the Environmental Protection Agency (EPA), National Park Service (NPS) and National Aeronautics and Space Administration (NASA)."
Accounts like @RogueNASA, @AltNatParkSer, @ActualEPAFacts and @Alt_NASA claim to be run by active or former employees of the agencies and have all attracted followers rapidly, with @RogueNASA earning 87,000 followers as of the time of this writing and @AltNatParkSer having 690,000 followers. What can we learn about the future of government communication from this act of civil disobedience?
By Thursday morning at 4:30am Eastern, @RogueNASA had 263,000 followers and @AltNatParkSer has almost a million followers. (@AltEPAFacts has over 50K followers and @Alt_NASA has 43.5K followers.)
As Huffington Post reports, there are official government accounts that are defying Trump as well.
On Tuesday, Huffington Post reported that "The official Twitter account of Badlands National Park in South Dakota fired off a series of since-deleted tweets Tuesday afternoon listing facts about the planet's rising carbon dioxide levels, just one day after sources inside the Environmental Protection Agency revealed employees had been instructed to freeze all its grants and halt any social media posts or external press releases."
The bold move comes days after the Department of the Interior temporarily suspended all activity on its Twitter accounts after one of its agencies, the National Park Service, retweeted images comparing the crowds at Donald Trump's inauguration to those of Barack Obama's in 2009 and reposted a tweet saying the civil rights, climate change and health care pages had been scrubbed from the White House website.
In a Thursday foll0w-up piece, Huffington Post reported that "A day after the Badlands National Park account began tweeting out climate change facts — only to have the tweets later disappear — another national park account appears to be going rogue in the face of President Donald Trump's new policies."
The Death Valley National Park Service has been tweeting not only about climate science, but also about the World War II imprisonment of Japanese Americans.
Forbes goes on to report that "one of the most remarkable aspects" of these Twitter accounts is the fact "they use as their avatars the official logos of the agencies they are attempting to speak on behalf of" putting them at risk of criminal prosecution.
For instance, as Forbes reports, "the EPA logo policy states that for any organization which wishes to 'reproduce the EPA logo or seal for purposes acceptable to the Agency, permission must be granted by OPA, which will provide a copy of the logo or seal.'"
NASA guidelines are even more strict, stating "The NASA insignia logo… and the NASA seal may not be used for any purpose without explicit permission. These images may not be used by persons who are not NASA employees or on products, publications or web pages that are not NASA-sponsored."
As Forbes explains, the National Park Service "takes its restrictions even further, referencing possible criminal prosecution: 'The arrowhead symbol is the official insignia and registered mark of the NPS. As such, it is protected by trademark laws and by 18 U.S.C. § 701, which provides for criminal penalties against non-governmental use of Government marks and other insignia. The arrowhead symbol may not be used without prior written permission from the Director of the NPS.'"
Forbes reached out to the the National Park Service and the NPA who declined to respond. NASA confirmed that they had lodged a complaint with Twitter regarding the use of its logo, but as of the time of the publication of this article, the logo remains on that account.
(Visited 230 times, 1 visits today)