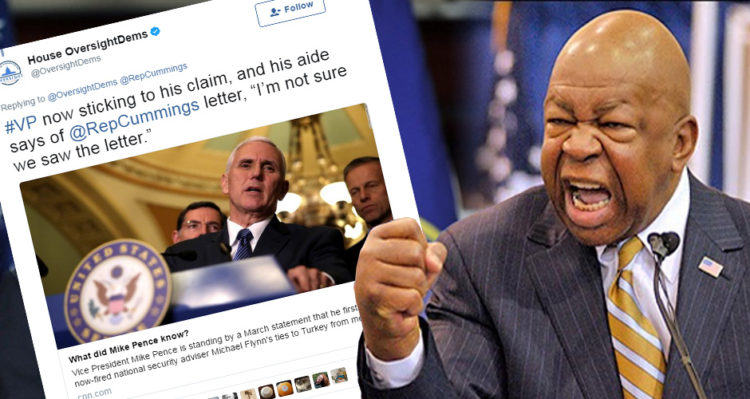 As it turns out, Democrats warned Pence about General Flynn late last year; and they have the receipt to prove it.
The Democrats on the House Oversight Committee, Rep. Elijah Cummings in specific, dropped a huge bomb on Mike Pence's claim that he didn't know about Michael Flynn's lobby efforts on behalf of the Turkish government until March.
As recently as yesterday Pence was standing by that claim, as reported by multiple news agencies such as USA Today and Politico, just to name a couple.
As USA Today reports, "However, on Wednesday, The New York Times reported that Flynn first told Trump's transition team on Jan. 4 that team he was under federal investigation for not initially reporting he was a paid lobbyist for Turkey during the campaign. The Times said the disclosure was first made to the transition team's chief lawyer, Donald F. McGahn II, who is now the White House counsel."
Despite that revelation, Pence's office said in a statement to Politico on Thursday that: "The Vice President stands by his comments in March upon first hearing the news regarding General Flynn's ties to Turkey and fully supports the President's decision to ask for General Flynn's resignation."
This morning, the Twitter account for the Democrats on the House Oversight Committee dropped a bomb on that claim, posting a link to a letter written by Rep. Cummings to Pence dated November 18, 2016, just days after the election.
@RepCummings .@RepCummings warned #VP about #Flynn's Turkish work on Nov 18, but VP says he didn't know until March. https://t.co/GuOOJ7qKOu

— House OversightDems (@OversightDems) May 19, 2017
@RepCummings #VP now sticking to his claim, and his aide says of @RepCummings letter, "I'm not sure we saw the letter." https://t.co/fp5p5OiUUz

— House OversightDems (@OversightDems) May 19, 2017
To make matters worse, House Democrats went on to post a copy of the receipt, proving that the letter was received and acknowledged by the Trump campaign:
@RepCummings Well, here's #Trump team's official receipt to @RepCummings promising to "review your letter carefully." pic.twitter.com/7Bu3WGFIwv

— House OversightDems (@OversightDems) May 19, 2017
You can check out Cummings 3-page letter to Pence detailing Flynn's work as a foreign agent, or you can go directly to a photo copy of the actual letter posted by House Democrats by clicking here.
@RepCummings READ THIS: Nov. 18 letter from @RepCummings warning VP-Elect #Pence about #Flynn's work on behalf of foreign interests. pic.twitter.com/cCmHBZdC4Z

— House OversightDems (@OversightDems) May 19, 2017
(Visited 193 times, 1 visits today)