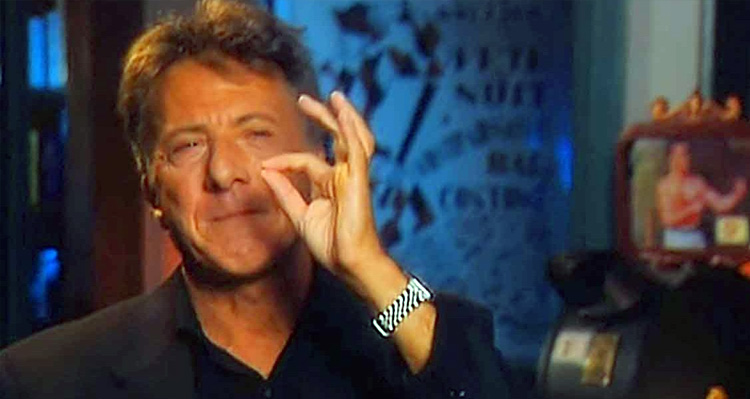 In this clip from the American Film Institute archive, actor Dustin Hoffman shares how the film TOOTSIE came to be and why he had to play the role of Dorothy Michaels.
This is lovely. Dustin Hoffman mans up, tears down, and emotionally lets go, in this very moving video. I think women will 'get it' immediately and can only hope men will try to understand what Hoffman is expressing.
Any time we put ourselves in the shoes of another person, who is different from us, we reach an understanding that is unattainable, by any other means. In this case, Hoffman put himself into the shoes,  the high-heel shoes, of  a woman for a movie role. The result, he claims, was an epiphany. Very well said and emoted.
As NBC News reported, "Hoffman's turn as a woman in the 1982 film 'Tootsie' was much more than just a dress-up comedy for the iconic actor. A tearful interview that is resurfacing and going viral shows how much it meant for Hoffman to view life as the opposite sex."
Hoffman begins the AFI interview explaining that Tootsie's co-writer, Murray Schisgal, asked him "How would you be different if you had been a woman?" a question that intrigued the actor as it was different than the usual "sexist" question on what it might "feel like" to be a woman.
Continuing the interview, Hoffman explains that he had make-up artists at Columbia Pictures dress him up as a woman.
"When we got to that point and looked at it on screen, I was shocked that I wasn't more attractive," Hoffman recalled.
"I said, 'Now you have me looking like a woman, now make me a beautiful woman.' Because I thought I should be beautiful. … And they said to me, 'That's as good as it gets.'"
Continuing, Hoffman teared up as he recalled a conversation he had with his wife at the time:
It was at that moment I had an epiphany, and I went home and started crying, talking to my wife. And I said I have to make this picture, and she said, 'Why?' And I said, 'Because I think I am an interesting woman when I look at myself on screen. And I know that if I met myself at a party, I would never talk to that character because she doesn't fulfill physically the demands that we're brought up to think women have to have in order for us to ask them out. She says, 'What are you saying?'

I said, 'There's too many interesting women I have not had the experience to know in this life because I have been brainwashed. That ['Tootsie'] was never a comedy for me.'
You can watch his heartfelt interview, below:
(Visited 11,630 times, 1 visits today)