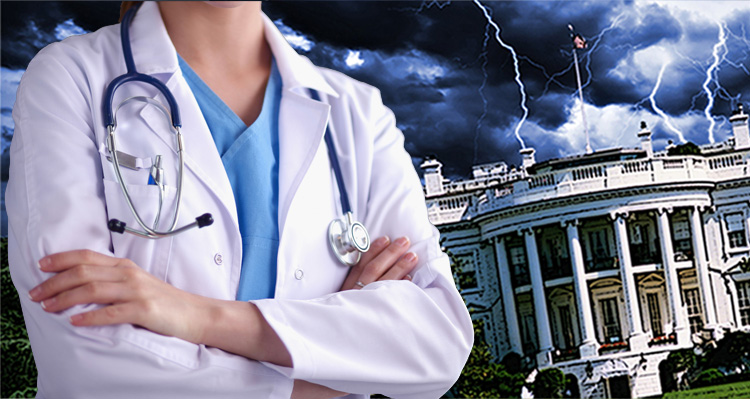 "Is America today in need of an unprecedented constitutional intervention?" George W. Bush's ethics attorney, Richard Painter, and clinical psychologist Leanne Watt discuss the 25th Amendment and Trump's mental health matters.
Painter and Watt began their opinion piece for NBC News with a quick explanation of the 25th Amendment:
The 25th Amendment is the ultimate constitutional "check" — a corrective mechanism for an American president who is physically or psychologically unable to lead. Most important, it grants legal authority to those closest to power — first, the vice president and Cabinet members, then members of Congress — to stage an intervention. At the very least, these individuals are authorized to call a temporary timeout if the president is judged unfit to govern.
Vogue offered the following additional information:
It's Section 4 of the amendment that some are saying could pertain to Donald Trump: If the Vice President and a majority of his cabinet decide he is "unable to discharge the powers and duties of his office," they can write to Congress to have him removed. Steve Bannon's comment [that the 25th Amendment was the biggest threat to Trump's presidency], along with outgoing Tennessee Senator Robert Corker's description of the White House as a "day care center," consumed with managing Trump's irrational mood swings, and Rex Tillerson's since-denied claim that the president is a "moron," have many people looking to his mental health for a way to oust him from the White House.
After detailing potential problems related to developing an "objective process for diagnosing mental health conditions based upon observable behavioral criteria," Painter and Watt discussed the fact that "A president who displayed behavior suggesting the presence of two or more severe personality disorders in, for example, the 'Cluster-B' family, could be judged incapable to lead."
The Cluster B personality disorders are all marked by impulsive, dramatic and unpredictable behavior. They are typically longstanding patterns resistant to change, even with treatment, and create significant impairment in the way a person thinks, functions and behaves.
Continuing, Painter and Watt explained:
Consider, for example, that a president exhibiting Cluster B behaviors associated with anti-social personality disorder and narcissistic personality disorder would likely struggle to keep calm and think clearly in high-pressure situations. Anti-social symptoms include a disregard for the rights of others, a tendency to break the law, lack of remorse, frequent lying, failure to honor financial obligations, interpersonal exploitation, risk-taking and revenge-seeking in response to perceived slights. Hallmark narcissistic symptoms include an exaggerated self-importance, sensitivity to criticism, lack of empathy, a need for admiration and attention, entitlement and exploitation with a need for personal gain. Together, these symptoms could severely undermine a president's ability to lead.
After more discussion regarding the intricacies of diagnosis of a sitting president, Painter and Watt wrote:
Many clinicians have already laid out their own concerns about the president's psychological health. Nearly 800 mental health professionals have joined a coalition asserting that they are so alarmed by Trump's mental health that they feel a duty to warn the public. An online petition, intended for mental health professionals who believe the president is unfit to serve, has been signed by roughly 62,000 people.
Painter and Watts concluded their article, explaining the possible need for preemptive action regarding the mental health of the president, writing:
At this juncture, waiting for unfitness to manifest beyond the types of observable and highly predictive behavior patterns studied by psychiatrists and psychologists is, we believe, naïve. Though remote, we cannot rule out the possibility that a president in a downward mental health spiral could destroy important global partnerships, alter centuries-old alliances and leave the United States vulnerable to terror attacks or war.

The 25th Amendment was created so that those closest to the president could respond in the event of a physical or psychological crisis. In turn, it is the duty of these individuals to be vigilant and act in the best interests of both the president and the citizens who rely on him — because responding to danger from within is as crucial to this nation's survival as responding to danger from without.
Vogue reported similar concerns in a recent article, writing:
[Trump] has shirked even the most basic, seemingly benign duties of the leader of the free world, like respectfully visiting with victims of natural disaster, while he has spoken bombastically about nuclear war with North Korea, something other presidents have avoided, if not attempted to solve, for several decades… Members of the American Psychiatric Association have  been forced to reconsider protocol regarding their thoughts on the President; since adapting "The Goldwater Rule" after the 1964 presidential election… But there is an emerging movement of those within the community who say that Trump's extreme narcissism constitutes a medical emergency, and that the 25th Amendment should indeed be applied for psychiatric reasons.
Jim Benson, of Altadena, California, questioned "Why have a 25th Amendment to the U.S. Constitution if we refuse to use it?" in a letter to the editor published on October 17th 2017 by the Los Angeles Times, adding:
Judge Trump's performance, including his tweets, as "fit" or "unfit" in the following policy areas: climate change; support for NATO; Iran's nuclear capability; tax reform; healthcare; the treatment of minorities, women, veterans, Dreamers, transgender people and judges; the environment; freedom of the press; disaster relief for Puerto Rico — you get the idea. Doing nothing is not an option.
Time will tell, but as Painter and Watt explained:
As an expert in presidential ethics and a clinical psychologist with an expertise in treating patients with personality disorders, respectively, the authors of this editorial have no relationship to President Donald Trump. But due to our collective and relevant experience, we do believe experts have a professional and ethical responsibility to speak up when they notice behaviors that appear troubling or suspect. At the very least, such observations are worthy of further exploration.
---
Richard Painter served as George W. Bush's chief ethics attorney from 2005-2007 and currently serves as the S. Walter Richey Professor of Corporate Law at the University of Minnesota Twin Cities and is the vice-chairman of Citizens for Responsibility and Ethics in Washington (CREW).
Leanne Watt is a Clinical Psychologist with 24 years practice, specializing "in treating patients who have been successful in many areas of life, but they're still feeling incomplete, often struggling with deeply entrenched interpersonal and behavioral patterns."
(Visited 1,688 times, 1 visits today)