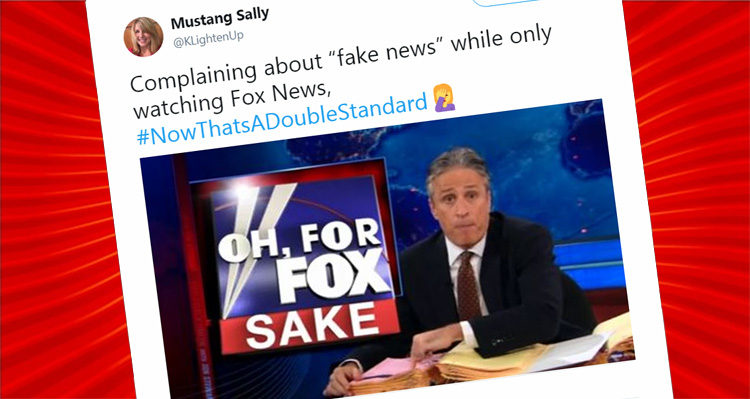 The world we live in is plagued with double standards. Check out what happened when #NowThatsADoubleStandard started trending on Twitter.
Double standards, the world is full of them.
Merriam-Webster defines them as "a set of principles that applies differently and usually more rigorously to one group of people or circumstances than to another."
The Urban Dictionary provides some great examples to include:
A man sleeps with numerous women: Considered OK  – A women sleeps with many men: Considered NOT OK
A white person is successful: Assumed to be because of HARD WORK – A black person is successful: Assumed to be because of AFFIRMATIVE ACTION
A Christian is a very strong believer and mentions his love of God: Viewed as HEALTHY and PASSIONATE – An Atheist is very strong in his belief of no God: Viewed as CRAZY, CONFUSED, MISLED, etc.
Twitter gaming community website and smart phone app @HashtagRoundup asked their fans to tweet their own examples of double standards using the hashtag #NowThatsADoubleStandard.
As one might expect, the results were both hilarious and a bit mind-numbing. I have to admit that I felt like bleaching my brain after being confronted with the reality of some of the posts.
Many of the examples posted on Twitter were classics like the first example cited by Urban Dictionary regarding sleeping around… Others were unique. All were entertaining.
Without further ado, here are a few favorites:
Social Security helped Paul Ryan as a kid.
He wants to take it from you now.#WI01 #NowThatsADoubleStandard pic.twitter.com/5y7Eu3Kj7W

— Steve Marmel (@Marmel) December 9, 2017
Confident man is a strong leader, a confidant woman is a bitch. #NowThatsADoubleStandard

— Mimi (@mimidancer) December 9, 2017
#NowThatsADoubleStandard mocking Maxine Waters hair and you got this going on pic.twitter.com/X5VumPtBKv

— View from my Office (@viewfrommyoffic) December 9, 2017
Hammering Muslim terrorists but not white supremicist terrorists.#NowThatsADoubleStandard

— PoliticalFreakshow📎🌈🌊❄️🖖🏽🤖👾 (@PolitiFreakshow) December 9, 2017
Hot dogs come in packs of 10 and buns in packs of 8. #NowThatsADoubleStandard pic.twitter.com/0kyzaIb0dk

— Michael (@quickbear) December 9, 2017
#NowThatsADoubleStandard Viagra is covered by insurance, but birth control isn't.

— Lilly Paloma (@LillyPaloma1980) December 9, 2017
She's too old to run for president. #NowThatsADoubleStandard pic.twitter.com/SEcpMlpAAk

— ѕтℓ_gяα¢є (@STL_Grace) December 9, 2017
Men with grey hair – distinguished
Women with grey hair – old
😒#NowThatsADoubleStandard

— Shari Bee (@Lavendermee3) December 9, 2017
(Visited 4,926 times, 1 visits today)