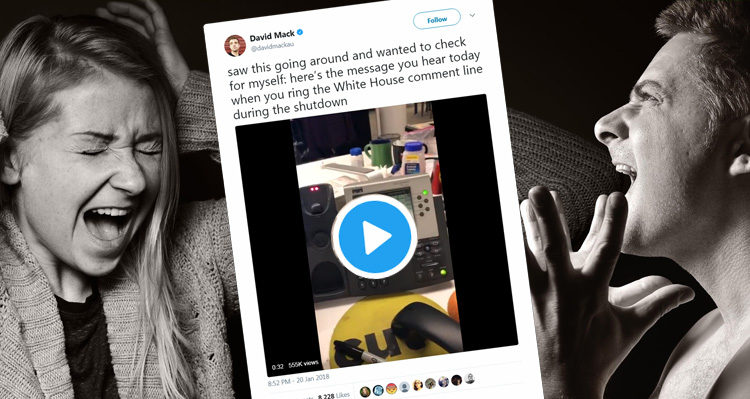 BuzzFeed's David Mack posted a video recording of the unprecedented attack by the White House on Democrats. 
The Trump administration seems to be doing everything in its power to derail any meaningful discussion in Congress regarding the government shutdown.
Fact-checking website Snopes reported that, on Saturday, "The Republican-controlled White House went so far as to change the outgoing message on the White House telephone comment line (202-456-1111) to an unprecedented message blaming Democrats."
Thank you for calling the White House. Unfortunately, we cannot answer your call today, because Congressional Democrats are holding government funding, including funding for our troops and other national security priorities, hostage to an unrelated immigration debate. Due to this obstruction, the government is shut down. In the meantime, you can leave a comment for the president at www.whitehouse.gov/contact. We look forward to taking your calls as soon as the government reopens.
Snopes called the number to confirm the message and reported that several reporters posted about the message as well, such as BuzzFeed's David Mack:
saw this going around and wanted to check for myself: here's the message you hear today when you ring the White House comment line during the shutdown pic.twitter.com/sCquYj0XnX

— David Mack (@davidmackau) January 20, 2018
Also on Saturday morning, the Trump campaign released a video titled "Complicit" accusing Democrats of murder.
A press release announcing the ad accuses Senate Minority Leader Charles Schumer and his fellow Democrats of "shut[ing] down the federal government, holding lawful citizens hostage over their demands for amnesty for illegal immigrants."
The press release goes on to call out "Democrats 'who stand in our way' of progress" of being "complicit in every murder committed by illegal immigrants."
Reuters reported that: "The new ad is likely to anger Democrats and immigration advocates and could inflame tensions over the issue on Capitol Hill, where Democrats and Republicans were working through the weekend to reach an agreement that would reopen the government."
Continuing, Reuters reported that Schumer's spokesman said in an email, "This is a shameless attempt by the president to distract from the Trump shutdown. Rather than campaigning, he should do his job and negotiate a deal to open the government [and] address the needs of the American people."
(Visited 1,934 times, 1 visits today)