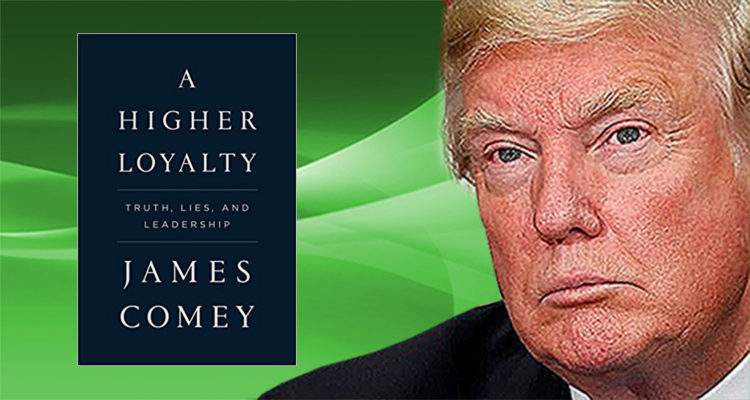 Former FBI Director James Comey's new book paints a devastating portrait of a man who lives in an alternative reality.
Several news organizations received copies of James Comey's new book prior to its scheduled release on Tuesday.
Published by Flatiron Books, the book is 290 pages and bears the title: "A HIGHER LOYALTY – Truth, Lies, and Leadership" and has a list price of $29.99.
The New York Times offered the following initial remarks about the book:
In his absorbing new book, "A Higher Loyalty," the former F.B.I. director James B. Comey calls the Trump presidency a "forest fire" that is doing serious damage to the country's norms and traditions.

"This president is unethical, and untethered to truth and institutional values," Comey writes. "His leadership is transactional, ego driven and about personal loyalty."
Continuing, The New York Times reported that decades before the Trump inauguration, "Comey was a career prosecutor who helped dismantle the Gambino crime family; and he doesn't hesitate in these pages to draw a direct analogy between the Mafia bosses he helped pack off to prison years ago and the current occupant of the Oval Office."
A February 2017 meeting in the White House with Trump and then chief of staff Reince Priebus left Comey recalling his days as a federal prosecutor facing off against the Mob: "The silent circle of assent. The boss in complete control. The loyalty oaths. The us-versus-them worldview. The lying about all things, large and small, in service to some code of loyalty that put the organization above morality and above the truth." An earlier visit to Trump Tower in January made Comey think about the New York Mafia social clubs he knew as a Manhattan prosecutor in the 1980s and 1990s — "The Ravenite. The Palma Boys. Café Giardino."
The Washington Post began their report, writing that:
In his memoir, Comey paints a devastating portrait of a president who built "a cocoon of alternative reality that he was busily wrapping around all of us." Comey describes Trump as a congenital liar and unethical leader, devoid of human emotion and driven by personal ego.
Comey has harsh words about Republicans in the book as well. As per The Washington Post:
A lifelong Republican until recently, Comey delivers an indirect but unmistakable rebuke of the GOP's congressional leaders as well: "It is also wrong to stand idly by, or worse, to stay silent when you know better, while a president brazenly seeks to undermine public confidence in law enforcement institutions that were established to keep our leaders in check."
Both The New York Times and The Washington Posts provided stunning excerpts and observations from Comey's book, with The New York Times offering the following broad overview:
The central themes that Comey returns to throughout this impassioned book are the toxic consequences of lying; and the corrosive effects of choosing loyalty to an individual over truth and the rule of law. Dishonesty, he writes, was central "to the entire enterprise of organized crime on both sides of the Atlantic," and so, too, were bullying, peer pressure and groupthink — repellent traits shared by Trump and company, he suggests, and now infecting our culture.

"We are experiencing a dangerous time in our country," Comey writes, "with a political environment where basic facts are disputed, fundamental truth is questioned, lying is normalized and unethical behavior is ignored, excused or rewarded."
(Visited 1,377 times, 1 visits today)