Despite his best efforts, Trump continues to be outdone and outclassed by Obama. 
It's no great secret that Trump is obsessed with President Obama – fiercely jealous of him.
Charles M. Blow of The New York Times published an article last summer discussing "Trump's Obama Obsession," stating that Trump's like a 71-year-old male version of Jan" from "The Bratty Bunch" whining "Obama, Obama, Obama."
Trump wants to be Obama — held in high esteem. But, alas, Trump is Trump, and that is now and has always been trashy. Trump accrued financial wealth, but he never accrued cultural capital, at least not among the people from whom he most wanted it.

Therefore, Trump is constantly whining about not being sufficiently applauded, commended, thanked, liked. His emotional injury is measured in his mind against Obama. How could Obama have been so celebrated while he is so reviled?
Where's Trump's Nobel Peace Prize? Obama Has One!
Wherever he turns, he seems to be bested by Obama. Take for instance the Nobel Peace Prize. Trump has been obsessed with receiving that distinction in light of Obama receiving one in in 2009 "for his extraordinary efforts to strengthen international diplomacy and cooperation between peoples. The Committee has attached special importance to Obama's vision of and work for a world without nuclear weapons."
Trump took a victory lap in front of reporters last month, confident of winning a Nobel for his peace efforts with North Korea. The New York Times reported that Trump gloated in front of a group of reporters after 18 House Republicans formally submitted his name for consideration for the 2019 Nobel. "Everyone thinks so, but I would never say it," Mr. Trump said with a laugh when asked if he deserved the prize.
However, as it turns out Trump's dream of receiving a Nobel this year was shattered by two unrelated events. First of all, Thorbjorn Jagland, the Secretary General of the Council of Europe [1] spoke out against Trump and his zero-tolerance policy of dealing with immigrants this week, telling Norwegian broadcaster TV2 that "[Trump] is no longer the moral leader of his country or the world." His comments are particularly noteworthy as Jagland serves as one of the five members of the Norwegian Nobel Committee which annually awards the Nobel Peace Prize in addition to his role as the Secretary General of the Council of Europe.
Second, The Washington Post reported over the weekend that: "U.S. intelligence officials, citing newly obtained evidence, have concluded that North Korea does not intend to fully surrender its nuclear stockpile, and instead is considering ways to conceal the number of weapons it has and secret production facilities, according to U.S. officials." That report was corroborated by an earlier NBC story published Friday and several other media outlets since then effectively dashing any hope of Trump receiving a Nobel for his efforts to denuclearize the Korean Peninsula.
Surely Trump Is Better At Twitter? Nope!
And then there is Trump's beloved Twitter account. However, it seems that Obama is beating him at his own game there as well with the number of his followers currently sitting at nearly double that of Trump's – 103 million to 53.1M.
Then there's the fact that Obama tweets currently hold the first and fourth positions for most liked tweets in history. Variety reported last summer that Obama's response to the Charlottesville tragedy set the record for the most-liked tweet in Twitter's history "when it topped 2.7 million likes."
NBC News reported at the time that: "Obama's record-breaking tweet included a photo of him greeting a group of small children of various ethnicities along with part of a quote from former South African president Nelson Mandela. Obama sent two additional tweets to complete the full Mandela quote."
"No one is born hating another person because of the color of his skin, or his background, or his religion. People must learn to hate, and if they can learn to hate, they can be taught to love, for love comes more naturally to the human heart than its opposite." ~Nelson Mandela
"No one is born hating another person because of the color of his skin or his background or his religion…" pic.twitter.com/InZ58zkoAm

— Barack Obama (@BarackObama) August 13, 2017
Making matters worse, Philip Bump of The Washington Post, published an expansive comparison of Obama's Twitter activity versus Trump's in an article titled "Resolved: Barack Obama is better at Twitter than Donald Trump."
As Bump explained, Trump likes to claim that his tweets are "presidential," however, "Trump's defense of his tweeting depends largely on the idea that he's unusually skilled at social media, playing the strings of Twitter like the first-chair violinist at the New York Philharmonic."
"What if, instead, Trump's not that great at Twitter? What if … Barack Obama is better?" Bump asked.
Presenting that case, Bump writes that "Overall, Trump's two accounts — his personal account, @realDonaldTrump, and his presidential one, @POTUS — get more retweets in a month than Obama's (@BarackObama and @POTUS44, respectively)."
However, that analysis overlooks one important fact: Trump tweets more frequently than Obama.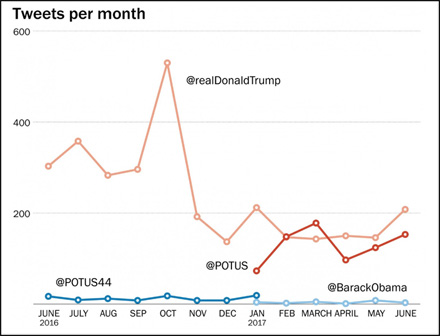 Continuing, Bump writes that "If we look at the number of retweets per tweet — how much engagement each tweet gets on average — we see that Obama actually fares much better than does Trump."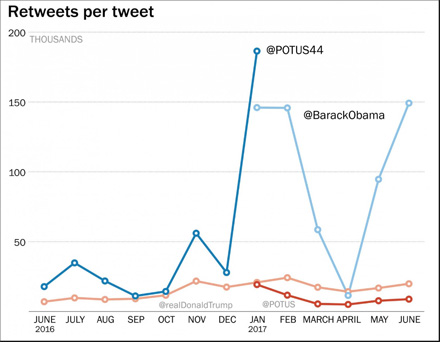 And while, arguably, some might consider that having more overall retweets is better than the number of retweets per post – Bump conducted an unofficial poll on Twitter "More than two-thirds of respondents figured that more retweets per tweet was the preferable metric. Meaning that Obama is using Twitter more effectively."
And it gets worse. Bump concluded his analysis by looking at the most retweeted posts by Trump and Obama.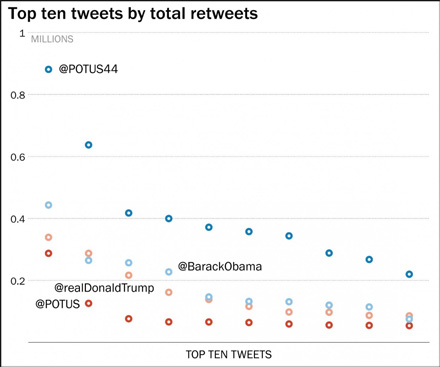 Explaining that data, Bump wrote:
If we look at the most-retweeted tweets from each account (extending back a year or for the period that each president controlled the account), the top 10 tweets from Obama's presidential account racked up far more retweets than any from Trump. That, objectively, is a bigger audience on a per-tweet basis…. Obama's top seven tweets from his time as president all earned more retweets than the top 10 tweets from either of Trump's two accounts.
(Visited 1,315 times, 1 visits today)