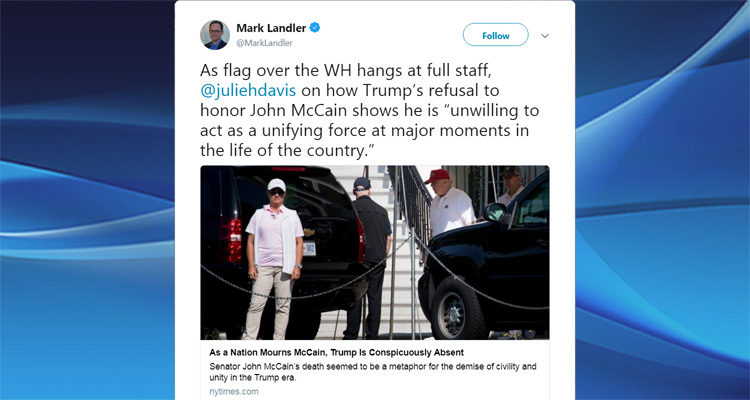 "John McCain, in death, is performing the unifying function that the incumbent president is congenitally incapable of performing." ~ Presidential historian Jon Meacham
The New York Times published a powerfully worded op-ed on Sunday, blasting Trump for his pettiness in the wake of the death of Republican Senator John McCain on Saturday.
Titled: "As a Nation Mourns McCain, Trump Is Conspicuously Absent," the article contrasted Trump's pettiness to the actions of past presidents from George Washington, the nation's first president, through Barack Obama, Trump's immediate predecessor.
"As leaders of both political parties and foreign dignitaries publicly mourned John McCain on Sunday, President Trump conspicuously avoided a national moment of tribute to a senator whose death seemed to be its own metaphor for the demise of civility and unity in the Trump era," the article began.
The president did not make even the most cursory public show of respect on Sunday for Mr. McCain, against whom he had continued to indulge a personal grievance even as it was apparent that the Arizona Republican was losing his battle with brain cancer. The president spent much of the day golfing and attacking his usual enemies on Twitter.
Continuing, The New York Times reminded readers that "McCain quietly declared before his death that he did not want Mr. Trump to take part in his funeral, a decision that will render the president a virtual pariah as the senator is eulogized by former presidents and other luminaries as a principled war hero and dedicated public servant."
But more than just the culmination of a political feud, the specter of Mr. Trump's highly visible absence from Mr. McCain's funeral on Saturday morning at Washington National Cathedral underscored the degree to which the president has veered from the norms of his office, unwilling to act as a unifying force at major moments in the life of the country.
The New York Times article went on to cite several individuals speaking out about Trump's absence as a unifying leader.
Speaking of McCain's funeral, Bill Kristol, the conservative commentator and editor at large of The Weekly Standard, offered the following:
Everyone, including him, is more comfortable with him not there, and that's a striking thing on its own, given that he is the president of the United States, and this was a sitting senator who is respected by both sides. For better or worse, he's outside what would have been the bipartisan boundaries, you might say, of American presidents.
Presidential historian and author of nine books, Michael Beschloss, stated:
For most of American history, politics stopped when you had the death of a national leader, and the fact that it hasn't says an awful lot about the current state of our country and our politics, and in particular about Donald Trump. What you'd want to see is a president acting as graciously and as large-mindedly as possible, in the John McCain spirit, but there is no sign of that yet.
The New York Times, concluded their article with the following observations by presidential historian Jon Meacham:
"From Washington all the way through to President Obama, presidents have had to play a unifying and even transcendent role in affirming a sense of national unity," Mr. Meacham said. "It has been and it continues to be almost unthinkable that the 45th president could follow in that tradition, and this is yet another example of his inability to bring disparate forces together even on ceremonial occasions."
"John McCain, in death, is performing the unifying function that the incumbent president is congenitally incapable of performing," Meacham added.
Turning to events of today, so far, flags at the White House were back at full mast – after it took until Sunday for them to be lowered to half mast to honor McCain.
NBC's Andrea Mitchell and The New York Times' Mark Landler reached out to Twitter to express their concerns:
White House flag back at full staff today says it all. #NoRespect https://t.co/o8Sn6sOfmy

— Andrea Mitchell (@mitchellreports) August 27, 2018
MSNBC's Chris Hayes took to Twitter as well. "Trying to imagine the scene at the WH this morning when the order was conveyed to put the flag back up to full staff," he began, adding: "I think it may be, quite literally, the pettiest thing I've ever seen."

Trying to imagine the scene at the WH this morning when the order was conveyed to put the flag back up to full staff.

— Chris Hayes (@chrislhayes) August 27, 2018
Former criminal investigator and current professor, Seth Abramson, weighed in as well, tweeting: "Imagine going to work today at the White House only to find out that your boss is playing a game with the American flag in order to give the middle finger to a dead war hero Imagine it being the thousandth indignity you've witnessed working for this person and still not quitting."
Imagine going to work today at the White House only to find out that your boss is playing a game with the American flag in order to give the middle finger to a dead war hero

Imagine it being the thousandth indignity you've witnessed working for this person and still not quitting

— Seth Abramson (@SethAbramson) August 27, 2018
(Visited 1,589 times, 1 visits today)