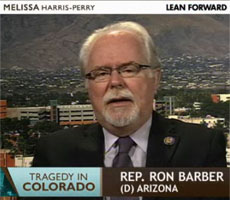 Gabby Gifford's successor, Congressman Ron Barber, who was injured in the January 8 shooting in Tucson, issued a statement today on today's mass shooting in Aurora, Colorado.
"The people of Aurora have suffered an immense loss. We are tested in times like these and we must come together to support one another in the wake of tragedy. I know that Aurora and its residents will take solace in one another in the coming days and weeks.
My thoughts and prayers go out to the families and friends who lost loved ones last night, each of those who were injured, the first responders and medical teams treating the victims, the law enforcement personnel and the entire community of Aurora.
All of Southern Arizona, and the nation, stands with you today."
Congressman Barber also spoke this morning on gun violence with Melissa Harris-Perry on MSNBC.
You can watch the clip below.
(Visited 23 times, 1 visits today)