About Pat Warde
A Tribute to Patricia Nell Warde
Eulogy delivered by Eleanor Hughes
December 1, 1992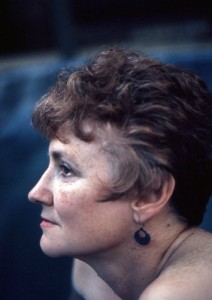 No one loved Christmas more than Pat Warde, and I believe it is highly appropriate that her memorial service be held at a time that the sanctuary is decorated with all the symbols of Christmas. Indeed no one loved the excitement and anticipation of a celebration more than she. For Pat, part of the joy of any celebration — Easter, Christmas, birthdays — was the opportunity to give gifts. I feel certain that every person in this room who has known Pat as a colleague, conference manager, friend, or family member understands me when I say that all of us are recipients of gifts from this supremely open, loving person. all of us have our own memories, our own stories about what it meant to spend time with Pat. Join me for a few moments in thinking about what made Pat uniquely who she was and what she meant to us.
Patricia Nell Wynn was born on September 16, 1937, in the very small town of Lexington, Mississippi, but always called the even smaller town of Goodman, Mississippi, home. It was there that she spent her early years with parents who doted on their only child, aunts and uncles who helped to "bring her up" in the way that big, extended, Southern families do, and cousins with whom she played and fought.
She was a lover of books from her earliest childhood. More than once she mentioned to me that her favorite Christmas as a child was the year her parents completely filled a huge box with books. For Pat, it was what Eudora Welty called in a similar childhood experience "an opulence of storybooks." She loved making up stories for her dolls, all of whom were named Gloria Delores, because she thought that the most beautiful of names.
It is not surprising that this child who fell in love with the written word and with tellers of tales went on to get a Bachelor's degree in English from Millsaps, a fine liberal arts school in Jackson, Mississippi, not too much more than a stone's throw from Goodman. It was a great source of pride to Pat that Millsaps was recently listed as one of America's fifty top liberal arts schools in the National Review College Guide. She later entered graduate school at the University of Arkansas, received a Master's in English, adopted that beautiful state as a second home, and met and fell in love with Bill Warde. She always called him Warde, and so will I.
It is also not surprising that much of the service that she gave to this community grew out of and supported the value she placed on books. She served six years on the City of Denton Library Board, four of those years as chair, and then on the Board of Directors of the Friends of the Library — with a tenure so long that she recently referred to it as a lifetime commitment.
She joined the Friends of the University of North Texas Libraries in 1982, became a member of the Board in 1986, and was elected President in 1987 and again in 1988. Her family has chosen a gift to the Rare Books Room at the UNT Library — a favorite project of Pat's– as an appropriate way to honor her memory. There will be more information on this available at a later date.
Her favorite author of fiction, not surprisingly, was Eudora Welty, who wrote about a place and people that Pat knew well. She delighted in the spoken word and could pay a speaker no higher compliment than to say, "He uses the language so beautifully." She could accept changes in the language, which she knew to be a living organism, but she had no patience with speech which was "like, you know" slovenly, and even less with thought that was expressed in language that was rambling and opaque, particularly when it was practiced by those who had the education to do better.
All of us in the Continuing Education and Conference Management office have experience her editorial pen, especially when it came to punctuation. Pat Roberts once wrote a memo, supplied it at the bottom of the page with a liberal sprinkling of punctuation marks, handed it to Pat, and suggested she use them as she liked. As on all other occasions, Pat Warde took the joshing with great good humor– and used the punctuation marks as well.
Art was not a casual or incidental part of the Wardes' lives, but was inextricably interwoven in the way she and Warde lived. Their home is filled with beautiful things, lovingly chosen over many years by Pat and Warde. Supporting the arts–museums, drama, and dance–has been a shared passion. The Kimbell Museum itself was a constant source of delight to Pat as a piece of architecture, and I can recall her speaking of going back to visit favorite pieces in the permanent collection as if they were old and dear friends. The clarity of vision and vividness and intensity of color in Georgia O'Keeffe's paintings made them favorites. The Wardes supported the arts at home as well, almost always finding time to attend the opening of the faculty and student shows in the University Gallery.
I considered calling her a Southern belle, but that has a connotation of the frivolous and shallow, and she was never that. She was in every way a Southern lady–by some marvelous alchemy a mixture of lace and iron, maintaining all the properties of each.
She was quintessentially feminine, a beautiful woman who took pride in her appearance. Anna says she never went to the mailbox without putting on lipstick because "you never know whom you're going to see." She was always impeccably groomed and dressed. Jeans were for housework or gardening. Even a trip to the grocery store merited something better.
She had a sense of decorum, of what ladies did and did not do, that was as natural to her as breathing, as much a part of her growing up as the fragrance of gardenias. Older people were always to be called by their titles, never by their first names. I never once heard her use language that would have embarrassed the people in Goodman, not because she was prudish but because she had too much respect for herself and for her audience to do otherwise.
She was more than a casual follower of national and state politics. She was a Yellow-Dog Democrat. To her family's knowledge, she never voted Republican. Joella Orr remembers that on one rainy election day Pat said, "Oh, Joella, it's raining and most of the Democrats don't have cars." She followed the latest presidential campaign with great intensity and interest and was thrilled that Clinton won. When she heard the news that the doctors had found a new tumor, one of her first comments was, "Maybe I will live to see a Democratic administration."
Although she did not think of herself as a career woman, she was the consummate professional. Pat was a coordinator of programs and later Associate Director of the Center for Continuing Education and Conference Management. She was one of the most intelligent people that I have ever known and a good listener.
Everyone who has worked with her on a conference–and I see many of you out there–marveled at her ability to manage hundreds of details, anticipate needs, negotiate solutions to difficult problems, and make it all seem "do-able" and even fun. Even in the most trying situations she found something funny to laugh about. On more than one occasion, when the bureaucracy overwhelmed us, she threatened to quit and go sell lipstick, but she loved her job, and her friends at the office were a second family.
When I asked a number of people what one quality they would remember most about Pat, without exception they all said "the laughter and the joy." I have struggled with how to express what it meant to be in the presence of that joy. I never heard her tell a joke, but she was witty, warm, and funny, with a sense of humor that she often turned on herself. She provided colleagues and friends with a steady stream of cartoons and clippings, tailored to their unique interests–or foibles. She loved to laugh and to make others laugh.
So many things gave her joy, and always she communicated that joy to those around her. She experienced a sense of delight in a small, unexpected gift, a glorious sunset, the splendor of autumn leaves.
If the well-spring of her laughter was joy, her life's blood was loving human relationships. In the last four or five years she expressed to me numerous times how important to her the time was that she and Warde had together–just the two of them, because, as in any good marriage, they grew more devoted with the passing years. On the last night, with the family gathered around her, she began to dictate her obituary. She said that after their marriage in Goodman "they have lived a long and rich life with their children, Samuel Wynn Warde and Anna Particia Warde."
Her children want you to know that she was a great mother–always at the front door waiting to greet them after school with something to eat and a question about their day. She was interested, concerned, involved in everything that concerned them, and spoke of Sam and Anna with so much love.
I have never known anyone who could reach out to so many people. She rejoiced with us when we rejoiced and wept with us when we wept. She loved us unconditionally, never giving up on us when we were thoughtless, foolish, or worse.
Well, I said she was a Southern lady, full of iron and lace. I am not so sure I knew to what degree the iron was there until these past two years during the struggle not only with her illness but with the very treatments medical science used to combat it. Her courage was a comfort and an inspiration to friends and family when there was so little that we could do to help. To one friend who commented to her on her strength, she replied, "They didn't operate on my brain or my feet, and those are my two strongest points."
And, as is to typical of Pat, her last few days in the hospital were seamless with the rest of her life. On the evening Pat checked in to the hospital, Warde called to say that he was afraid she was too weak to have company. The next morning he arrived at her room to find her dressed in beautiful, jade green, silk pajamas, hair combed, lipstick on, and asking that her friends be told she was receiving company. When she finished dictating her obituary, she told them to "be sure to get the commas in the right places." In spite of the medicine she received for pain, the warm, loving, funny lady we knew was there, no tears, no self pity.
Quite simply, she lived every day of her life. What a joyous way to accept the gift of life! What a gift to give to all of us who loved her!
Patricia Nell (Wynn) Warde
September 16, 1937 to November 24, 1992
(Visited 1,145 times, 1 visits today)