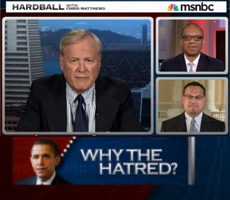 "There is an ethnic piece in this.   It's very hard to nail it down because they always cover it in ideology, but I've never heard anybody in this country call his opponent regularly Anti-American or Non-American".
~Chris Matthews, speaking about Anti-Obama hatred
Yesterday on Hardball, Chris Matthews took on the subject of hatred towards President Obama.  The Washington Post's Eugene Robinson and Rep. Keith Ellison, D-Mich., talked about the hateful rhetoric from the right about President Obama.
(Visited 39 times, 1 visits today)