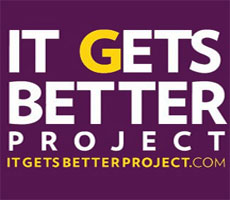 The It Gets Better Project brings hope to the plight of LGBT youth in America.
The project  was founded by American author, journalist, editor and media pundit, Dan Savage and his husband, Terry Miller to help prevent suicide among LGBT youth.  The project was created in response to the suicide of Billy Lucas and the growing number of other teenagers who have been bullied because they were gay.
From their website, the It Gets Better Project states that Savage and Miller "wanted to create a personal way for supporters everywhere to tell LGBT youth that, yes, it does indeed get better".
"Growing up isn't easy. Many young people face daily tormenting and bullying, leading them to feel like they have nowhere to turn. This is especially true for LGBT kids and teens, who often hide their sexuality for fear of bullying. Without other openly gay adults and mentors in their lives, they can't imagine what their future may hold. In many instances, gay and lesbian adolescents are taunted — even tortured — simply for being themselves.

While many of these teens couldn't see a positive future for themselves, we can. The It Gets Better Project was created to show young LGBT people the levels of happiness, potential, and positivity their lives will reach – if they can just get through their teen years. The It Gets Better Project wants to remind teenagers in the LGBT community that they are not alone — and it WILL get better." source
The movement has gone on to gain worldwide support with their website hosting more than 50,000 user-created video.  The project has also gained the support of numerous activist, celebrities, media personalities and politicians to include organizations such as The Gap, Google, Facebook, Pixar, the Broadway community and individuals such as Secretary of State Hillary Clinton, Rep. Nancy Pelosi, Ellen DeGeneres, Colin Farrell, Anne Hathaway, Adam Lambert, Sarah Silverman and President Obama, seen below in this video from October 21, 2010 in which he noted:
"We've got to dispel this myth that bullying is just a normal rite of passage; that it's just some inevitable part of growing up. It's not. We have an obligation to ensure that our schools are safe for all of our kids. And for every young person out there you need to know that if you're in trouble, there are caring adults who can help."
(Visited 92 times, 1 visits today)