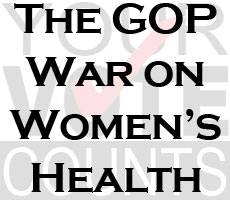 The Republican Party continues to wage its war against women, and in particular against women's reproductive health services.
While the mainstream press has not given this issue enough press, there are organizations who have such as New Left Media, who produced the film below.
The Guttmacher Institute is another great organization "[A]dvancing sexual and reproductive health worldwide through research, policy analysis and public education.
EMILY's List is a political action committee (PAC) in the United States that aims to help elect pro-choice Democratic female candidates to office.
Anyone not convinced there is a war on women need to check out the EMILY's List interactive timeline.
_______________________________________
Click here for all our articles on Women's Issues
_______________________________________
The documentary below "cogently explains the state and national efforts by Republicans–including Mitt Romney–to limit access to birth control and other basic women's health services."
It features interviews with Rep. Lois Capps (CA-23), who as a former nurse has long been a leader on women's health issues; Stephanie Schriock, president of EMILY's List; and Dr. Kimberly Shepherd, an OB/GYN who provides medical authority on issues that never should've been politicized in the first place.
With the lives of millions of women potentially impacted by the dangerous proposals of Mitt Romney and Republican lawmakers, it's vital that this issue isn't forgotten this election season. Help us spread the word.
TAKE ACTION Visit StopTheWarOnWomen.com, and SHARE THIS VIDEO!

This documentary film was produced and edited by Chase Whiteside (interviews), Erick Stoll (camera), and Liz Cambron.
Graphic design by Chase Whiteside.
Motion design by Ashley Walton (ashleywalton.com).
Music from the brilliant Jon Brion.
THANKS
Sean Barma
Laura Dawn
EMILY's List
Emma Shapiro
Ashley Schapitl
Rick Pender
Jay Marose
Victoria Shantrell
–
NLM ELSEWHERE:
Facebook: http://facebook.com/newleftmedia
Twitter: http://twitter.com/newleftmedia
Tumblr: http://blog.newleftmedia.com
DONATE:
Our videos are free to watch, but costly to produce. Every contribution helps to keep us online.
http://donate.newleftmedia.com/
–
Citations
1:  http://www.blunt.senate.gov/public/_cache/files/12ca4c96-d98c-4b37-920a-cdb15…
2:  http://www.govtrack.us/congress/bills/112/s1467, http://www.govtrack.us/congress/bills/112/hr1179
3:  http://articles.boston.com/2012-03-01/politics/31109829_1_andrea-saul-mitt-ro…
4:  http://www.nyu.edu/projects/sanger/webedition/app/documents/show.php?sangerDo…
5:  http://www.guttmacher.org/media/nr/2011/11/15/index.html
6-7:  http://www.slate.com/blogs/xx_factor/2011/02/22/title_x_once_had_overwhelming…
8:  http://www.youtube.com/watch?v=OLM_nDczR2g
9:  http://www.motherjones.com/blue-marble/2011/02/gop-plan-cut-family-planning-5…
10, 11: http://www.hhs.gov/opa/pdfs/fpar-2009-national-summary.pdf
12:  http://www.guttmacher.org/pubs/09_HPU19.3Frost.pdf
13:  FY 2011
14: http://www.govtrack.us/congress/bills/112/s1488/text
15:  http://www.washingtonpost.com/blogs/ezra-klein/post/what-planned-parenthood-a…
16:  http://www.guttmacher.org/pubs/NextSteps.pdf, http://www.guttmacher.org/media/nr/2009/02/23/
17, 18: http://www.guttmacher.org/media/inthenews/2012/01/05/endofyear.html/
19:  http://www.guttmacher.org/statecenter/spibs/spib_OAL.pdf
20:  http://www.legislature.state.oh.us/bills.cfm?ID=129_HB_78
(Visited 17 times, 1 visits today)