Rachel Maddow and Chris Matthews discuss voter suppression efforts and point out that the way these new laws are being written are affecting voters in a partisan manner.  So far 19 states have implemented strict new barriers to voter registration, as detailed in the chart below.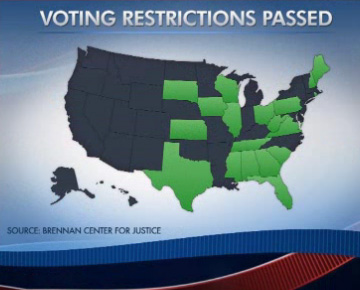 The results are devastating for Democrats in Florida as demonstrated in the chart below, according to a review by The Florida Times-Union, a major daily newspaper in Jacksonville. The core findings of the review are as follows:
During the 13 months beginning July 1 the year before elections in 2004 and 2008, registered Democrats increased by an average of 209,425 voters.

From 2011 to this year, that number was 11,365.

Over that same time, the number of registered Republicans increased by 128,039, topping the average of 103,555 during the past two presidential cycles.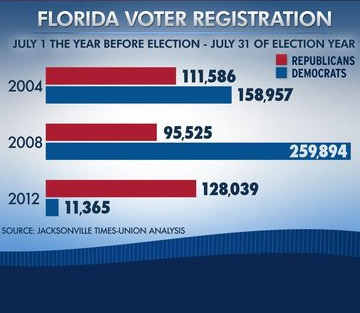 (Visited 102 times, 1 visits today)