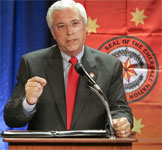 As reported by ABC affiliate WCVB in Boston, "The Principal Chief of the Cherokee Nation issued a strongly worded statement  Wednesday, denouncing the actions of staffers and supporters of the Sen. Scott  Brown campaign, who were shown in a YouTube video [shown below] chanting Indian "war whoops"  and making "tomahawk chops" during a rally for the Republican senator earlier in  the week in Boston."
The video shows 5 of Sen. Brown's staff members and supporters mocking Native Americans with hoots and gestures such as a means of taunting Brown's opponent in the upcoming election, Elizabeth Warren.  The participants in the video were later identified as Sen. Brown's deputy chief of staff, his constituents services counsel, his state director for Massachusetts, his special assistant and a Massachusetts State Republican political operative.
Here is the full statement by the Cherokee Nation:
The Cherokee Nation is  disappointed in and denounces the disrespectful actions of staffers and  supporters of Massachusetts Sen. Scott Brown. The conduct of these individuals  goes far beyond what is appropriate and proper in political discourse. The use  of stereotypical "war whoop chants" and "tomahawk chops" are offensive and  downright racist. It is those types of actions that perpetuate negative  stereotypes and continue to minimize and degrade all native peoples.
The individuals involved  in this unfortunate incident are high ranking staffers in both the senate office  and the Brown campaign. A campaign that would allow and condone such offensive  and racist behavior must be called to task for their actions.
The Cherokee Nation is a  modern, productive society, and I am blessed to be their chief. I will not be  silent when individuals mock and insult our people and our great nation.
We need individuals in the  United States Senate who respect Native Americans and have an understanding of  tribal issues. For that reason, I call upon Sen. Brown to apologize for the  offensive actions of his staff and their uneducated, unenlightened and racist  portrayal of native peoples. SOURCE
(Visited 65 times, 1 visits today)