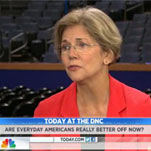 Democratic Senate candidate, Elizabeth Warren, sat down with Today's Savannah Guthrie and discussed Ronald Reagan's famous campaign question regarding whether Americans were better off in the present than they were four years ago and how that same question is answered today.
When asked about Mitt Romney, Warren replied:
"The way I look at this is I just look at the facts and that is – what is the plan that they are putting forward. When Romney says his plan is to cut taxes for the rich and increase them for the middle class, you better believe I have a problem with that.  America's middle class can't stand that anymore. America's middle class has been hammered, squeezed and chipped at for a generation now.  It's gotta stop".
You can watch the segment below.
(Visited 11 times, 1 visits today)