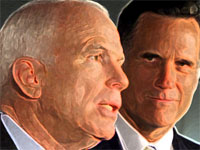 Former Republican presidential candidate John McCain formally endorsed Mitt Romney's candidacy for president back on January 4th of this year stating:
"I am really here for one reason, and one reason only, and that is to make sure that we make Mitt Romney the next president of the United States of America," according to a video from The Washington Post.
However, McCain has not always supported Romney particularly back in 2008 when they were bitter rivals for the Republican presidential nomination.
At the time, McCain released an attack ad entitled "A Tale of Two Mitts" portraying Romney as a flip-flopper regarding abortion, gun rights and his own political identity.
You can see the ad below.
(Visited 6 times, 1 visits today)