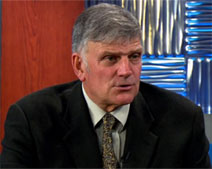 The outspoken Rev. Franklin Graham, the president and CEO of both the Billy Graham Evangelistic Association (BGEA) and the international Christian relief organization Samaritan's Purse, told the Christian Broadcasting Network this week that Christians should be "upset at themselves" for President Obama's re-election.
"We know that from of the statistics that I've heard that the majority of Christians in this country just did not vote for whatever reason. The vast majority of evangelicals did not go to the polls.
God is in control, and if Christians are upset, they need to be upset at themselves. We need to do a better job of getting our people – the Church – to vote. Now, I'm not trying to tell you how to vote, you can vote, but vote, my goodness, and vote for candidates that stand for Biblical values."
However, more Christians went to the polls in this election than in 2008, making Graham's assertion false that President Obama would have lost had white Christian evangelicals showed up in larger numbers.
As reported by NBC,
"White evangelicals/born-again Christians made up the same percentage of the electorate as they did in 2008 – 26%. They voted for Mitt Romney, a devout Mormon, by a wider margin than they did for Sen. John McCain four years ago.
And, they made up a larger share of the electorate in 2012 than in 2004, when the Christian Right supposedly fueled George W. Bush's reelection. They also voted for Romney with the exact same margin as for Bush in 2004, 78%-21%.
Not to mention, Obama won the 48 percent of the electorate that was Christian and not Protestant or Mormon — 50%-48% among Catholics (25% of the electorate) and 50%-49% of "Other Christians" (23% of the electorate).
In Ohio, they were 1 point more of the electorate than 2008; in Colorado, 4 points higher; in Iowa, up 7 points; in Nevada, up 2."
[iframe width="100%" height="1900″ src=http://bcove.me/w77pj62x]
(Visited 20 times, 1 visits today)