Visit NBCNews.com for breaking news, world news, and news about the economy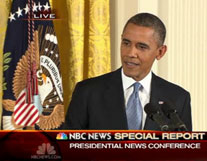 During his first press conference since being re-elected, President Obama strongly defended United Nations Ambassador Susan Rice regarding her response to the September 11th attack on the U.S. Mission in Benghazi Libya.
Pres. Obama said that Ambassador Rice had done "exemplary work" and accused Republican critics of attempting to "besmirch" her reputation, characterizing their attacks as "outrageous".
"I don't think there's any debate in this country that when you have four Americans killed, that's a problem, and we've got to get to the bottom of it and there needs to be accountability. We've got to bring those who carried it out to justice. They won't get any debate from me on that," Obama said sternly.
"But when they go after the U.N. ambassador, apparently because they think she's an easy target, then they've got a problem with me."
(Visited 14 times, 1 visits today)