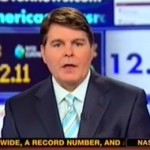 On Monday, Fox News host Gregg Jarrett said that a woman who thought Michigan's new "right-to-work" law was unfair could "go get a job elsewhere" if she did not like it.
Prior to this comment, Fox News host Martha MacCallum had been interviewing Michigan state Sen. Arlan Meekhof (R) who was defending the legislation.
Immediately following the interview, MacCallum mentioned an earlier Fox News broadcast had featured a woman angry that the proposed anti-union law would allow workers to unfairly receive benefits who did not pay union dues.
"One woman, in a soundbite we had earlier, said 'I don't want to work somebody who doesn't have to pay what I have to pay.' That is part of the outrage there," MacCallum told co-host Jarrett.
"Then she doesn't have to work. I mean, if she doesn't like that, she can go get a job elsewhere, I suppose," Jarrett responded. "But the point here is, it seems anathema to democracy to force somebody to join a union, to force somebody as a condition of having a job to join a union."
(Visited 16 times, 1 visits today)