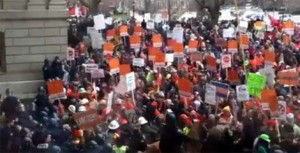 The ACLU of Michigan has video posted of protesters at the state capital being pepper sprayed by police.
According to The Battle Creek Enquirer, former Rep. Mark Schauer (D) was pepper sprayed as well amid an escalationg protest against the "right to work" bills passed by a lame duck Republican led legislature earlier today.
Schauer told the Battle Creek Enquirer that he tried to negotiate a line between police and the demonstrators, but instead he was pepper sprayed, stating: "I immediately began to retreat and began to cover my eyes and my mouth. It was not good".
(Visited 5 times, 1 visits today)