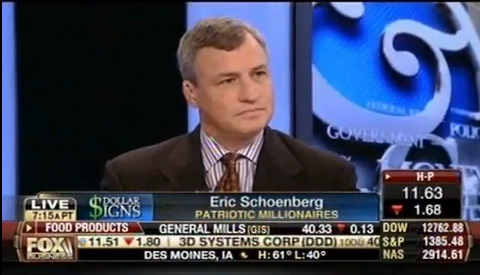 Patriotic Millionaire Eric Schoenberg leaves Fox Business host Stuart Varney speechless at 3:51.
In November 2010, during the lame duck session negotiations on extending unemployment benefits, more than 100 millionaires came together to urge the President not to extend cuts to individuals earning above $1 million per year. The group is now comprised of over 200 Americans with incomes over $1 million per year who are calling for higher taxes on incomes over that level.  Their effort is known as "The Patriotic Millionaires for Fiscal Strength" and seeks to "highlight the issue of imbalance in the relative tax obligation carried by various income levels of taxpayers."
Believe it or not, some millionaires actually want to pay MORE taxes.
(Visited 95 times, 1 visits today)