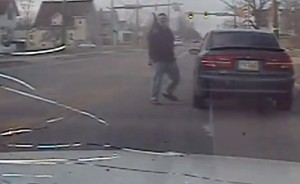 Middlefield, Ohio, Police have released the dash cam footage of the deadly March 10 officer-involved shooting in which a Mentor-on-the-Lake man was killed and two officers were injured.
The nearly 2 1/2 minute video begins by showing Officers Brandon Savage and Erin Thomas driving southbound at about 5:55 p.m. on Route 608, when a green Saturn failed to stop at the intersection of 608 and East High Street.
The officers enacted the traffic stop a short distance north of the intersection. As the officers prepared to approach the vehicle, the video appears to show the officers discussing movement in the Saturn.
"He's hiding something," Thomas can be heard saying.
Sitting in the passenger seat, she then exited the cruiser and circled back behind it to the driver side. Savage remained in the driver seat.
Before Thomas reached the front bumper of the cruiser, James Gilkerson, 42, quickly exited his vehicle and began firing on the officers with a FEG 7.62×39, commonly referred to as a AK-47 style semi-automatic rifle. About 45 seconds elapsed from when Gilkerson stopped his vehicle to when he exited and began firing.
Gilkerson can then be seen moving away from his vehicle out further into the middle of 608 and towards the police cruiser. After being hit by shots from Savage, Gilkerson moves back toward the Saturn repeatedly yelling, "Kill me."
As Gilkerson drops to one knee still pointing his gun at the officers, Savage asks Thomas, "Are you hit?
You can watch a news clip on the shootout followed by the full raw dashcam footage:
(Visited 11 times, 1 visits today)