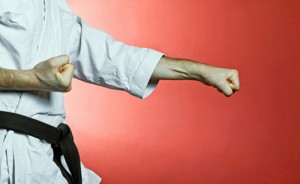 BE SURE TO SUPPORT YOUR LOCAL LIBERAL CANDIDATES:
One of the surest ways to beat these nit-wits is to insure they don't get elected to office in the first place.
Put out a road sign supporting your local party favorite.
Donate time or money to the candidate of your choice.
Take a shift at a local call center, calling registered Democrats to remind them the importance of voting.
Use online resources tracking conservative and Tea Party candidates and see if any of them are in your voting district.
DO NOT WATCH TELEVISION STATIONS THAT AIR SUPER PAC NONSENSE:
Don't just sit there dumbstruck by the lunacy filling your TV screen.  Super PACs will be spending literally tens of millions, if not hundreds of millions, of dollars bombarding the airwaves, particularly on local stations in swing states.
It might be hard, or inconvenient, but you can reach for that remote control and change stations as soon as that conservative advertisement hits the screen.  Many local stations have their own ratings systems – be sure to show them that you do not support such nonsense.
Follow-up by sending the station an email advising them of your displeasure and that of your family, friends and co-workers.  Sure Super PACs are giving them money for air time today, but that is very short-lived – the local networks and stations need your continued patronage to survive long term.
ADVOCATE TRUTHFULNESS:
Don't idly standby while others spout out talking points they don't understand absorbed from too much time on Fox News or listening to conservative pundits who distort the truth such as Limbaugh, Beck or O'Reilly.
You can use Twitter, Facebook and other online portals to take-on coservative lies and mindless Tea Party rhetoric.
You can challenge that loudmouth at Starbucks spouting out his or her  illogical unsubstantiated opinion.
You will not convince die hard conservatives….. you can lead a horse to water…. but there might be some rational independent thinkers around or people who are unsure how to vote who might be swayed by an argument that actually contains facts.
BE AWARE OF COMPANIES SUPPORTING TEA PARTY AND OTHER RIGHT-WING GROUPS AND BOYCOTT THEM:
You love your country right?  Do not want to see the Tea Party or other conservatives to take over, correct?  Well get out there and identify companies supporting them and their efforts to undermine personal freedoms, women's reproductive health access……
To get you started, here is a list of but a few of those companies we should avoid.  Be sure to share with your family and friends. This is by no means a fully comprehensive list, but it is a good beginning.
NEWS CORP
Be sure not to watch:
20th Century Fox Television programs on other networks (24, Married with Children, etc.)
Big Ten Network (49%)
Fox Business Network;
Fox College Sports
Fox Movie Channel
Fox News
Fox News Channel
Fox Reality Channel
Fox Soccer Channel
Fox Sports en Español
Fox Sports Enterprises
Fox Sports Net
Fox-branded local television stations
Foxtel (25%)
FUEL TV
FX Networks
National Geographic Channel (International) (50%)
National Geographic Channel (US) (67%)
Speed Channel
Sport South
Do not watch movies produced by these studios:
20th Century Fox Español
20th Century Fox Home Entertainment
20th Century Fox International
20th Century Fox movies;
Blue Sky Studios pictures;
Fox Searchlight Pictures;
On the web, avoid:
AmericanIdol.com
AskMen.com
Authonomy via HarperCollins
Fox Interactive Media
Fox.com
Foxsports.com
GameSpy
Hulu.com
IGN
MyNetworktv.com
MySpace (5%)
News Digital Media
Scout.com
TheSimpsons.com
TheXFactorUSA.com
WhatIfSports
Do not buy/subscribe to magazine/print publications or read books from:
Alpha
Barron's – weekly financial markets magazine.
Big League
Chopper
Country Style
Financial News
Harper Collins
Lifestyle Pools + outdoor design
Live to Ride
Marketwatch – Financial news and information website.
MasterChef Magazine
Modern Boating
Modern Fishing
New York Post
Overlander 4WD
SmartSource Magazine
Super Food Ideas
Tattoo
The Wall Street Journal
Truck & Trailer Australia
Truckin' Life
Two Wheels
Two Wheels Scooter
Vogue Entertaining + Travel
Zondervan Publishing
THE KOCH BROTHERS
ADI-Pure ®
Antron ®
Brawny brand paper towels and other products;
Chemical products including: •Sure Sol ® products
Comforel® fiberfill
CoolMax ®
Cordura ® fabric
DACRON ®
DBE ® dibasic esters
Delica ®
Demak'Up ®
Dixie® Brand cups plates, and other products;
European brands: •Colhogar ®
Georgia-Pacific lumber and paper products;
Inversoft ®
Kitten Soft ®
Koch Agricultural – Operates cattle ranches
Koch Fertilizers
Lotus ®
Man-made fabrics and fibers including: •LYCRA ®
Mardi Gras brand paper goods;
Matador Ranch – Hunting ranch.
Moltonel ®
Northern brand toilet paper;
Nouvelle ®
Okay
Oxyclear ™
Performa ®
Polarguard ®
Polyclear ®
Polyshield ®
Soft-n-Gentle® brand toilet paper;
SolarMax ®
Somerelle ® Bedding
Sparkle brand paper goods;
Sparkle brand paper napkins;
Stainmaster® carpet and fabric care products;
Supplex ® Fabric
Tactel®
Tactesse ® Carpet Fibers
Tenderly ®
Terathane
Thermolite ®
Tutto ®
Vanity Fair brand paper napkins;
Zee brand paper goods
THE DeVOS FAMILY
AMWAYproducts (much of which are made in China) including: •Nutrilite ®
Artistry make-up and skin care products
Body Series personal products;
DITTO Delivery
eSpring laundry and cleaning products;
Fulton Street Market products;
Glister oral care products;
Hi-Gear automotive products
iCook
Legacy of Clean;
Miss America make-up and skin care products
NUTRIPET ® products
Nutriplant agricultural products;
Perfect Empowered drinking water
Personal Accents ® scents;
Satinique bath products;
The Creme LuXury Collection make-up and skin care products
The NBA ® Orlando Magic
Trend Collection make-up and skin care products
XLP automotive products
XS energy drinks
(Visited 34 times, 1 visits today)