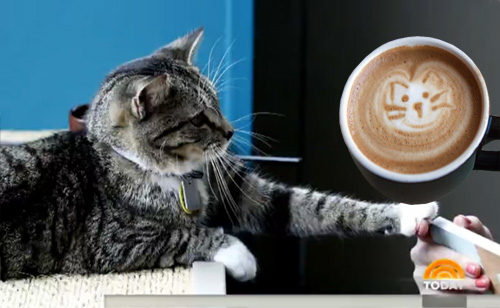 Some are calling it crazy, while others claim it's a purr-fect idea. But everyone can call it The Cat Cafe, where the coffee's free, the food's free, and even the felines are free.
"Purina ONE® is opening the first cat café on the continent to spark conversation among cat owners and experts about cat health and wellbeing. Join us – along with the adoptable resident cats, experts and a very special guest – to learn about our 28-Day Challenge, and how to strengthen your routines with your own cat."
As part of a marketing stunt, Purina ONE opened up a four-day cat café in New York City this week where patrons can pet cats from the North Shore Animal League shelter on Long Island and sip "cat'achinos", a twist on cappuccinos. If you don't live in New York, you can still watch the action via livestream until April 27.
NBC's Joelle Garguilo reports.
Watch below:
Visit NBCNews.com for breaking news, world news, and news about the economy
(Visited 16 times, 1 visits today)