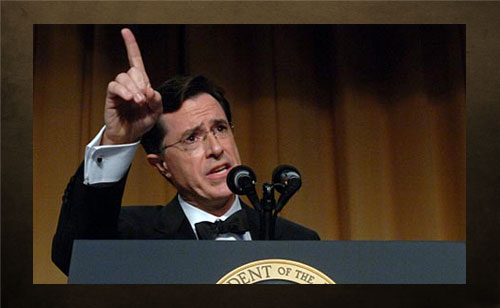 Colbert was invited to speak at the 2006 White House Correspondents Dinner by the outgoing president of the White House Press Corps Association, Mark Smith. According to a report in New York magazine, "Smith later told the Times he hadn't seen much of Colbert's work".
Colbert gave his after-dinner remarks in front of an audience described by the Associated Press as a "Who's Who of power and celebrity". More than 2,500 guests attended the event including First Lady Laura Bush, Chairman of the Joint Chiefs of Staff Peter Pace, U.S. Attorney General Alberto Gonzales, China's Ambassador Zhou Wenzhong, tennis player Anna Kournikova, and actor George Clooney.
For his performance, Colbert adopted the role of the character that he plays on his television show, The Colbert Report. He spoke directly to President Bush several times, satirically praising his foreign policy, lifestyle, and beliefs, and referring to his declining approval rating and popular reputation calling him out at a time when most members of the media were still afraid of being critical of Bush or his presidency.
(Visited 30 times, 1 visits today)