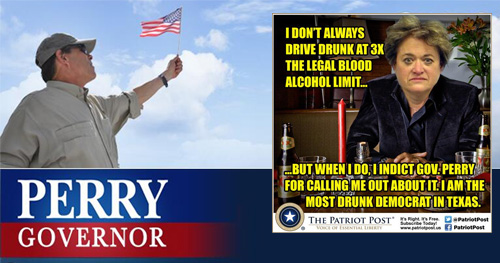 The Houston Chronicle reports "A tweet mischaracterizing Gov. Rick Perry's indictment was sent Sunday evening from his personal account, setting the social network abuzz and leaving his critics fuming. An hour later, the message was deleted, with his account calling it 'unauthorized.'"
The tweet read, "I don't always drive drunk at 3x the legal blood alcohol limit… …but when I do, I indict Gov. Perry for calling me out about it. I am the most drunk Democrat in Texas," and included a photo of Travis County District Attorney Rosemary Lehmberg, modeled after Dos Equis' Most Interesting Man in the World ad campaign.
As you can see, below, the tweet appeared to have originated from The Patriot Post account.
For the record… #RickPerry #Lehmberg pic.twitter.com/b1gS8dxJwL

— The Patriot Post (@PatriotPost) September 1, 2014
The tweet was removed from Perry's page after about an hour and replaced with a retraction.
A tweet just went out from my account that was unauthorized. I do not condone the tweet and I have taken it down.

— Rick Perry (@GovernorPerry) September 1, 2014
It would appear that this one was not Rick Perry's fault, but it does serve as a further example of how Perry faces other controversy related to the felony charges related to his threat to veto $7.5 million in state funds for the public integrity unit of the Travis County district attorney's office.
Two weeks ago the presiding district court judge for Travis County issued a warning to Perry about possible threats he made to the grand jury that indicted him. Later in the week some members of the grand jury spoke out against what one juror characterized as "spin" by Rick Perry and his supporters regarding the indictment.
Speaking of Perry's public defense, so far, Janna Bessin, one of the 12 Travis County residents appointed to serve on the grand jury said: "It's too bad. But I guess that his side's job – to really spin it."Another grand juror who asked not to be named, said he expects the public perception to change once the full scope of the prosecutor's case becomes public, telling the Houston Chronicle that "I think if and when the facts come out, that'll change."
There is even dissent within the ranks of the Texas Tea party regarding the indictment, such as with 2-term state representative David Simpson who disputes Perry's claim that the indictment was political. Speaking to the News-Journal, Simpson noted that "A lot of people think they've got it all figured out," adding that "the special prosecutor bringing the indictment, Michael McCrum, is a Republican. So is the presiding judge who appointed McCrum, District Judge Bert Richardson of San Antonio." Simpson concluding saying that at this point "We don't know what we don't know."
Most recently, controversy rages about the initial cost of Perry's legal defense. Last week, according to  The Texas Tribune, "State records show taxpayers have spent about $80,000 so far to represent Perry as he faced criminal investigation. " However, in a supplemental article published on Friday, The Texas Tribune raised that figure to over $130,000.
Taxpayers have already spent $98,000 to hire Botsford & Roark, the firm of his lead criminal defense attorney David Botsford, who charges $450 an hour. Previously, state records — which take a while to show up in the government's accounting system — showed taxpayers had spent $80,000 on Botsford's firm.

Perry's office also spent $15,000 to hire the Houston-based law firm Baker Botts and $19,890 to hire attorney Jack Bacon. The total came to $132,890.
It will be interesting to see what the next chapter in this saga brings, however, most legal experts predict this case will take years to resolve.

(Visited 12 times, 1 visits today)