We routinely criticize WBC for turning funerals into spectacles. Does the NYPD deserve a pass for doing the same thing?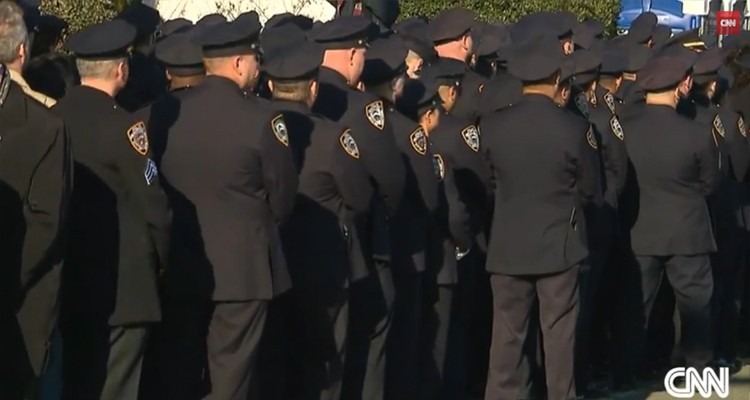 I would like to begin by noting that while I would not ever call myself "pro-police," I am certainly not anti-police. That being said, I am disgusted by this weekend's spectacle by officers at the funeral of slain NYPD officer Rafael Ramos.
We have written a lot about the Westboro Baptist Church since the creation of this website. And I must say, agree or disagree with the motives of the NYPD – their decision to turn the somber occasion of a funeral of one of their own into a political stunt is reminiscent of the kind of nonsense we have come to expect from Westboro.
As CBS New York reports, de Blasio and police unions have been battling publicly following a "grand jury's decision not to indict an officer in connection with Eric Garner's death," and let's face it – de Blasio was never popular with the NYPD since running on a platform calling for the end of the "stop and frisk" policy of the department.
Weeks before the shooting, Patrick Lynch, president of the Patrolmen's Benevolent Association, the largest and most influential union of the New York City Police Department, suggested police officers sign a petition demanding de Blasio not attend the funerals of police officers killed in the line of duty.
Since the shooting deaths of Ramos and Liu, police officers and union reps have done their very best to politicize the execution of those two officers:
On the flip side, as Syracuse.com reports last week, de Blasio has done just the opposite, calling for a temporary halt to political debate. Speaking from police headquarters, de Blasio said that
Our focus has to be on these families. I think it's a time for everyone to put aside political debates, put aside protests, put aside all of the things that we will talk about in all due time.
It is also noteworthy that in spite of calls by police unions for de Blasio not to attend the funeral of officer Ramos, his family has publicly stated that they wanted Mayor de Blasio to attend the funeral services on Saturday.
As Mindy notes in an open letter to the NYPD,
And so what did you do? You turned a funeral service for one of your own into a ridiculous spectacle for the world to see.. You chose to make a funeral all about you instead of the murdered cop being laid to rest. Turning your backs to Mayor DeBlasio as he delivered the eulogy for Officer Ramos made you look like petty children throwing a tempter tantrum. And it did absolutely nothing to improve your image for those people who really do mistrust or dislike the police.
Speaking for myself, I find it impossible to ignore the fact that we routinely criticize the Westboro Baptist Church for turning funerals into public spectacles without condemning the actions of hundreds, possibly thousands, of police officers this weekend.
complete list of groups who stage protests at funerals: - Westboro Baptist Church - New York Police Department

— Matt Binder (@MattBinder) December 27, 2014
(Visited 18 times, 1 visits today)