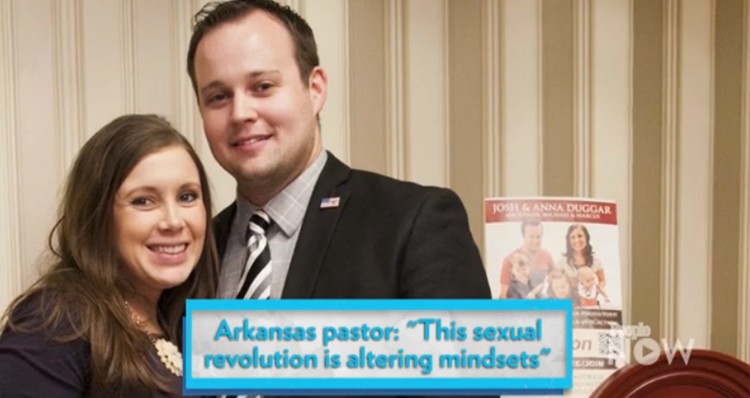 In the wake of a year filled with Duggar family scandals, Ronnie Floyd, the senior pastor at the Duggar's church in Springdale, Arkansas, gave the first in a series of sermons focusing on the theme of love and physical relationships called "Sex Today" on Sunday.
People Magazine reported that Floyd began his sermon with a "discussion of the current state of the media and America's 'sexual revolution,'" to include talking about homosexuality, divorce and people living together prior to getting married.
According to Floyd, "this sexual revolution is altering mindsets, undermining the family, influencing the culture and is a mockery to Biblical truth."
The sermon then focused on a topic all too familiar with followers of the former reality show family's ongoing scandal plagued year – marital infidelity. According to People Magazine, "Floyd focused specifically on the hacking of Ashley Madison's website, which released the names of millions of users, including Josh Duggar. (After the hack, Josh admitted to being unfaithful to his wife, Anna, and having an addiction to pornography, although he later removed the line about pornography from the public statement on his parents' website.)"
Floyd went on to warn the congregation that:
We're in a sexual epidemic of unprecedented proportions in this country. Nothing is secret now nor will it ever be. Adultery, being sexually or emotionally unfaithful to your spouse, that's wrong. Some of you are on the other end of someone else destruction.
Floyd then urged married couples to engage in "sexual conduct" to keep their spouses from falling victim to "the attack of the enemy," giving them five guidelines to follow.
In the last guideline,  Floyd mentioned the importance of "sexual contact" in keeping both the husband and wife happy, warning them that if either fails to satisfy the needs of the other, they are opening themselves up to an "attack of the enemy," adding:
And that enemy is going to take your spouse away from you. Both men and women have their sexual needs met by someone, somewhere, somehow.
A report by Raw Story noted that Floyd has "previously offered support for Josh Duggar, who admitted earlier this year to molesting four of his sisters and a babysitter more than a decade ago, when he was a teenager."
"Things like this have happened before and will happen again," Floyd said at the time.
You can watch a news clip on the sermon below, courtesy of People Magazine:
(Visited 30 times, 1 visits today)