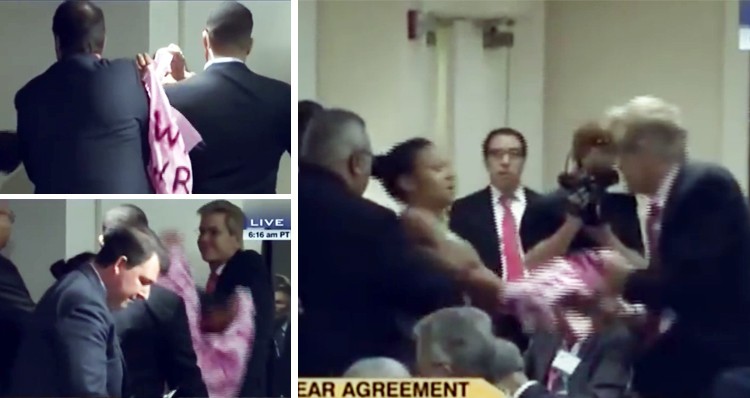 Protesters interrupted a Tuesday morning speech by former vice-president Dick Cheney, calling him a war criminal.
The former vice-president was speaking out against the Iran nuclear deal at American Enterprise Institute when unnamed protesters started shouting at Cheney.
One woman, thought to be associated with the activist group Code Pink, stood up and attempted to unfurl a banner. Security can be seen wrestling the banner from her in the clip below.
"Dick Cheney is a war criminal," she yelled, adding, "no more war mongering. We want peace. We want peace."
One protester yelled: "Why should we be listening to you?"
"My generation wants peace, not war," was heard as well as, "No more war-mongering. Dick Cheney is a war criminal."
The protesters were quickly escorted out of the room, according to a report by The Hill, and a smirking Dick Cheney thanked the audience as they were leaving, telling them: "Thank you very much."
Here's another angle showing the brutality of security.
Protesters interrupting Dick Cheney at AEI. Gets her sign ripped away. pic.twitter.com/4GwJR7aWPo

— Benny (@bennyjohnson) September 8, 2015
(Visited 17 times, 1 visits today)