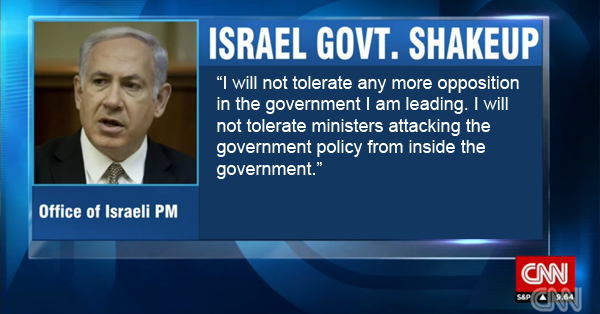 Israeli Prime Minister Benjamin Netanyahu's office announced on Tuesday that the Prime Minister has called for the resignation of two high-ranking members of his coalition Cabinet and will call for the dissolution of the nation's Parliament, setting the stage for new elections.
CNN reports Netanyahu "ordered letters of dismissal for Finance Minister Yair Lapid and Justice Minister Tzipi Livni, two members of his Cabinet from rival parties, and the Prime Minister stated:
During the last few weeks and, in particular, the last few days, the ministers have intensely attacked the government that I am leading. I will not tolerate ministers attacking the government's policy and its head from inside the government.
As CNN reports, "The head of the right-wing Likud party, Netanyahu has been Israel's Prime Minister since 2009. But he's had to rely on members of other parties — many of them to the left of Likud on the political spectrum — to govern."
According to a  statement from Yesh Atid[1], ousted Finance Minister Lapid told Netanyahu by phone he expected the Prime Minister "to act responsibly and to stop dragging the (Israeli military) and our soldiers into an election for your political needs."
The Yesh Atid party went on to claim that:
Unnecessary elections … will harm the economy and Israeli society, all for narrow political interests and a surrender to the ultra-orthodox parties, the powerful central committee of the Likud and outside lobby groups.

Prime Minister Netanyahu has failed in his management of the country and in dealing with the needs of the Israeli public," the Yesh Atid party said. "The firing of ministers is an act of cowardice and loss of control.
You can watch a news clip from CNN, below:
Netanyahu dissolves parliament, dismisses cabinet members
FOOTNOTE:
1. A centrist party, Yesh Atid controls the second most seats in Parliament behind Netanyahu's right-wing Likud Party.
(Visited 34 times, 1 visits today)