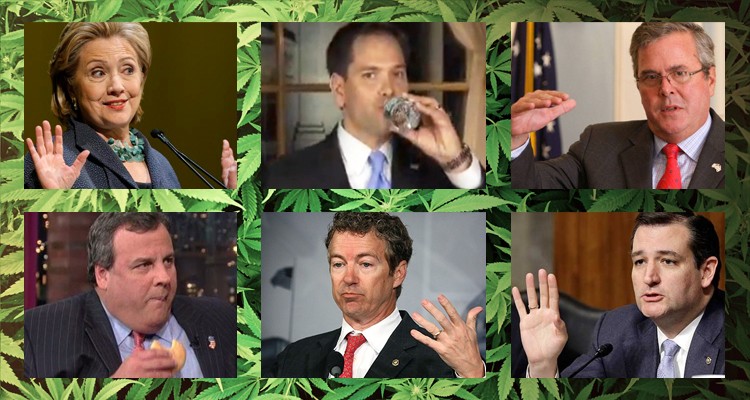 A Quinnipiac University poll taken in March shows that the legalization of marijuana is more popular than any potential presidential contender for the 2016 race. This poll clearly shows that marijuana legalization is a mainstream issue that presidential hopefuls should try to latch onto instead of run away from.
According to the poll, "Voters in three critical swing states, Florida, Ohio and Pennsylvania, support legalization of medical marijuana by margins of 5-1 or more and also support legalization of recreational marijuana use by smaller margins."
Quinnipiac elaborated on the report in a press release published Monday:
Support for medical marijuana is 84 – 14 percent in Florida, 84 – 15 percent in Ohio and 88 – 10 percent in Pennsylvania, the independent Quinnipiac (KWIN-uh-pe-ack) University Poll finds. The Swing State Poll focuses on Florida, Ohio and Pennsylvania because since 1960 no candidate has won the presidential race without taking at least two of these three states.

Support for allowing adults "to legally possess small amounts of marijuana for personal use" is 55 – 42 percent in Florida, 52 – 44 percent in Ohio and 51 – 45 percent in Pennsylvania.
Christopher Ingraham of The Washington Post broke the numbers down, reporting that:
Recreational weed is polling just a hair better than Hillary Clinton in all three states — she's currently pulling favorability numbers in the high-40s, low-50s range. And marijuana is considerably more popular than any of the major Republican candidates. In Ohio, for instance, recreational marijuana outpolls Marco Rubio and Ted Cruz by more than two-to-one. In Pennsylvania, medical marijuana is more than three times more popular than Jeb Bush. Home-state favorites Bush and Rubio poll better in Florida, but they're still running 8 to 13 points behind recreational marijuana.
Tom Angell from the Marijuana Majority had the following to say to ThinkProgress about the poll results:
These results show that marijuana legalization is a mainstream issue that ambitious politicians should try to latch onto instead of run away from. If the next president isn't willing to personally support ending prohibition as the best policy approach, he or she at least needs to push for changing federal laws so that seriously ill people can use medical marijuana without fear of being harassed by the DEA. Medical marijuana polls way better with voters than any presidential candidate does.
(Visited 26 times, 1 visits today)