Donald Trump announced his bid for the presidency this week, reminding me of the time President Obama shredded Donald Trump at the 2011 White House Correspondents' Dinner after enduring weeks of attacks from Trump as he campaigned briefly for the 2012 Republican nomination for president.
Obama began by making several jokes about Trump's freakish obsession over his birth certificate:
"Donald Trump is here tonight!  (Laughter and applause.)  Now, I know that he's taken some flak lately, but no one is happier, no one is prouder to put this birth certificate matter to rest than the Donald.  (Laughter.)  And that's because he can finally get back to focusing on the issues that matter –- like, did we fake the moon landing?  (Laughter.)  What really happened in Roswell?  (Laughter.)  And where are Biggie and Tupac?  (Laughter and applause.)"
The president then went on to joke about Trump's unique qualifications to be POTUS….
"But all kidding aside, obviously, we all know about your credentials and breadth of experience.  (Laughter.)  For example — no, seriously, just recently, in an episode of Celebrity Apprentice — (laughter) — at the steakhouse, the men's cooking team cooking did not impress the judges from Omaha Steaks.  And there was a lot of blame to go around.  But you, Mr. Trump, recognized that the real problem was a lack of leadership.  And so ultimately, you didn't blame Lil' Jon or Meatloaf.  (Laughter.)  You fired Gary Busey.  (Laughter.)  And these are the kind of decisions that would keep me up at night.  (Laughter and applause.)  Well handled, sir.  (Laughter.)  Well handled."
Obama finished his roast of Trump, stating:
"Say what you will about Mr. Trump, he certainly would bring some change to the White House; let's see what we've got up there." [Screens show "Trump White House Resort and Casino."]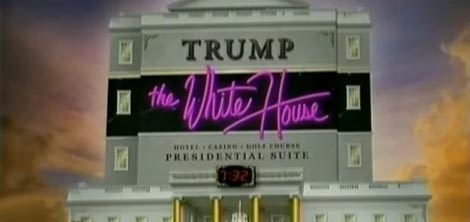 You can enjoy the roast in the clip, below:
(Visited 77 times, 1 visits today)