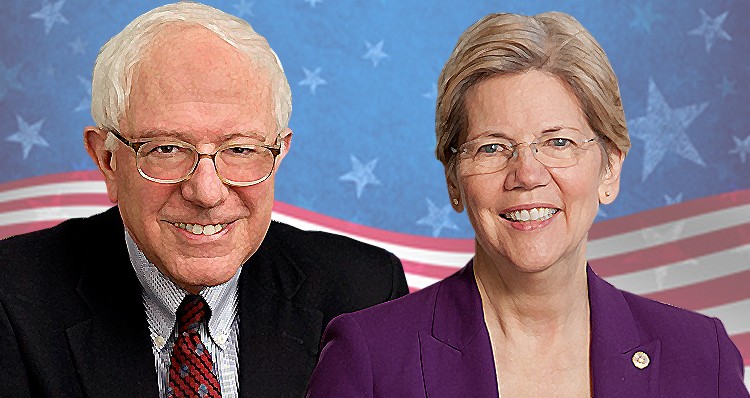 Presidential hopeful Sen. Bernie Sanders (I-VT) the 72-year-old Vermont socialist is surging in the Democratic Primary against Hillary Clinton. A couple of weeks ago, Bill Curry of Salon wrote that "Hillary Clinton is going to lose: she doesn't even see the frustrated progressive wave that will nominate Bernie Sanders" and Huffington Post followed up with that sentiment in an article entitled "Bernie Sanders Has Overtaken Hillary Clinton In the Hearts and Minds of Democrats."

The Washington Time reports that "Sanders has drawn headlines for attracting packed crowds at campaign stops in Denver, Des Moines, Iowa, and Madison, Wisconsin, as well as for his rising poll numbers in early primary states Iowa and New Hampshire," with a recent CNN/WMUR New Hampshire primary poll showing Sanders pulling to within eight points of Clinton in New Hampshire.
Heartbroken when Sen. Elizabeth Warren (D-M) decided not to run for president in 2016, "some hard-core lefties" and progressives have shifted their attention to Sanders, "who has been drawing massive crowds across the country" according to a recent report by Mother Jones.
In an interview with the Boston Herald last week, Warren stated that she's not ruling out the idea of joining Sanders on the campaign trail, telling the Herald that it's "too early to say," adding "Bernie's out talking about the issues that the American people want to hear about. These are people who care about these issues, and that's who Bernie's reaching. I love what Bernie is talking about. I think all the presidential candidates should be out talking about the big issues."
David Pakman discusses in the clip below that, "[Warren] is saying she is not at all surprised that the Vermont Senator is surging in the polls and drawing a lot of enthusiastic in New Hampshire," adding that there is a lot of speculation as to whether she will endorse Clinton or another candidate who is "more in line with Elizabeth Warren's actual political views – Bernie Sanders."

Pakman goes on to note that "there's an argument to be made that Elizabeth Warren could be more effective as a senator than she ever could be as vice-president."
What are your thoughts? Would you like to see Warren stay in the Senate or would you prefer a Sanders Warren ticket in 2016?
(Visited 5,632 times, 6 visits today)