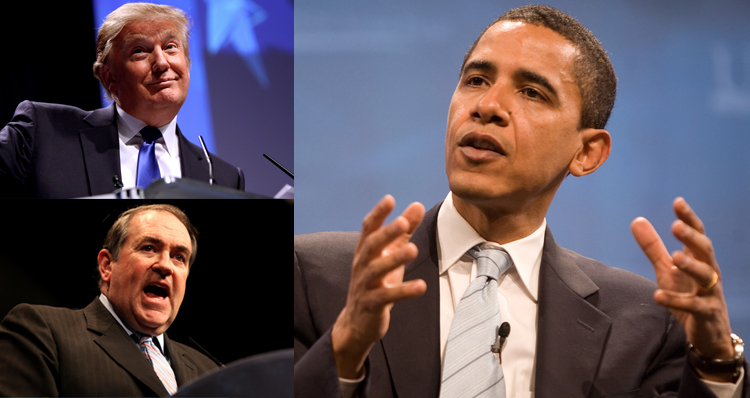 On Monday, President Obama offered his most extensive comments on the current slate of Republican presidential candidates so far.
During a press conference in Ethiopia, Obama slammed the GOP hopefuls for using rhetoric "that would be considered ridiculous if it weren't so sad."
Darlene Superville of the Associated Press asked  if Pres. Obama  would "kindly bring up up to date on the administration's lobbying of Congress to get approval for the deal?  And would you include your reaction to Republican presidential candidate Mike Huckabee saying that the deal is the equivalent of marching the Israelis toward 'the door of the oven.'"
The President responded:
The particular comments of Mr. Huckabee are, I think, part of just a general pattern that we've seen that is — would be considered ridiculous if it weren't so sad.  We've had a sitting senator call John Kerry Pontius Pilate.  We've had a sitting senator who also happens to be running for President suggest that I'm the leading state sponsor of terrorism.  These are leaders in the Republican Party.  And part of what historically has made America great is, particularly when it comes to foreign policy, there's been a recognition that these issues are too serious, that issues of war and peace are of such grave concern and consequence that we don't play fast and loose that way.  We have robust debates, we look at the facts, there are going to be disagreements.  But we just don't fling out ad hominem attacks like that, because it doesn't help inform the American people.
Speaking directly about the Iran nuclear agreement, Obama stated:
I mean, this is a deal that has been endorsed by people like Brent Scowcroft and Sam Nunn — right? — historic Democratic and Republican leaders on arms control and on keeping America safe.  And so when you get rhetoric like this, maybe it gets attention and maybe this is just an effort to push Mr. Trump out of the headlines, but it's not the kind of leadership that is needed for America right now.  And I don't think that's what anybody — Democratic, Republican, or independent — is looking for out of their political leaders.
Singling out Donald Trump, Obama continued:
In fact, it's been interesting when you look at what's happened with Mr. Trump, when he's made some of the remarks that, for example, challenged the heroism of Mr. McCain, somebody who endured torture and conducted himself with exemplary patriotism, the Republican Party is shocked.  And yet, that arises out of a culture where those kinds of outrageous attacks have become far too commonplace and get circulated nonstop through the Internet and talk radio and news outlets.  And I recognize when outrageous statements like that are made about me, that a lot of the same people who were outraged when they were made about Mr. McCain were pretty quiet.
Pres. Obama concluded that portion of the press conference with the following admonition:
The point is we're creating a culture that is not conducive to good policy or good politics.  The American people deserve better.  Certainly, presidential debates deserve better.  In 18 months, I'm turning over the keys — I want to make sure I'm turning over the keys to somebody who is serious about the serious problems the country faces and the world faces.  And that requires on both sides, Democrat and Republican, a sense of seriousness and decorum and honesty.  And I think that's what the voters expect, as well.
You can watch the president's remarks in the clip, below:
(Visited 24 times, 1 visits today)